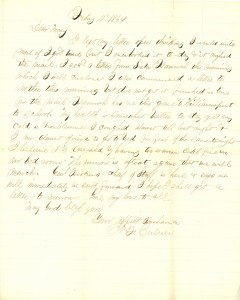 Feby. 10th 1864
Dear Mary
I left my letter open thinking I would write more if I got time, but I overlooked it to-day & it missed the mail. I recd. a letter from Sister Hannah [Culver] this morning, which I will enclose.1 I also commenced a letter to Mother this morning, but did not get it finished in time for the mail.
Hannah has ere this gone to Williamsport [Pa.] to school. My health is somewhat better to-day, yet my cold is troublesome. I coughed almost all last night, & I am almost afraid to go to bed for fear of the same to-night. I believe it is caused by having too warm coal fire in our bedroom.
The rumor is afloat again that we will march. Genl. Hooker's Chief of Staff is here, & says we will immediately be sent forward.2 I hope I shall get a letter to-morrow. Give my love to all.
May God bless you.
Your Affect. Husband
J. F. Culver
The subject letter from Hannah Culver is missing from the Culver Collection. [↩]
General Hooker commanded the XI and XII Corps, Army of the Cumberland. Maj. Gen. Daniel Butterfield, Hooker's chief of staff, was in Nashville to learn why Ward's division was detained. From General Ward he learned that, exclusive of his command, there were about 16,000 troops in and around Nashville. In Butterfield's opinion, the interest of the service would be promoted by moving Harrison's brigade, if not the entire division, to the front. When he made this recommendation to General Hooker on the 12th, Butterfield observed, "Their present condition near Nashville, with its temptations to soldiers, will not be improved. The command [Harrison's] is represented in a very high state of discipline and perfection in drill. Their permanent camps are broken up, and they are not comfortably situated." O. R., Ser. I, Vol. XXXII, pt. II, p. 376. [↩]