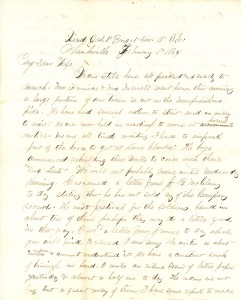 Head Qrs. 1st Brig., 1st Div. 11th A.C.
Nashville February 1st 1864
My Dear Wife
We are still here, all packed and ready to march. Mrs. Harrison & Mrs. Merrell went home this morning.1 A large portion of our train is out on the Murfreesboro Pike. We have had several orders to start and as many to wait. We are now held in readiness to move at an hour's notice.2 We are all tired waiting. I had to unpack part of the boxes to get at some blanks. The boys commenced rebuilding their walls to cover with their "Dog Tents."3 We will not probably move until Wednesday morning [the 3d].
I received a letter from J. B. McClean to-day, stating that he has not sold any of the Company records.4 [At] the next festival for the soldiers, hand in about ten of them, perhaps they may do a little good in that way. I rec'd. a letter from Jennie [Cheston] to-day which you will find enclosed. I am sorry she writes so about Mother & cannot understand it.5
We have a constant rush of business on hand. I wrote an entire ream of letter paper yesterday & almost a half one to-day. The orders are not long but a great many of them. I have some reports to make to-night yet.
Capt. Hoskins is better and has gone to a boarding house. I have not seen any of the women since I last wrote. I have not heard whether any have gone home or not. R. D. Folks is better; he was removed to the hospital.
We recd. the "Sentinel" yesterday & the "Ledger" last night. The Scorpions with Aaron have been despersed, and the papers of this evening announce that Lt. Farragut (now Commodore) has taken Mobile, Alabama.6
I hope it is true.
I must close & get at my reports. I will try and drop a line before we start. If I am to do all that is laid out for me on the march, I fear I will be able to write but little. I feel a little home-sick to get back to the company to-night; in fact, I am very tired. Keep up good heart. All will yet be well. Trust in God.
Give my love to all. I expect to get my box in the morning.
Your Affect. Husband
J. F. Culver