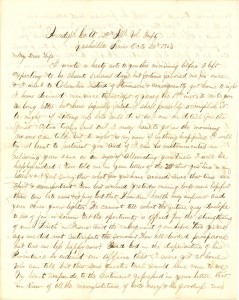 Headqrs. Co. "A" 129th Ills. Vol. Infty.
Nashville, Tenn., Octr. 28th 1863
My Dear Wife
I wrote a hasty note to you this morning before I left, expecting to be absent several days, but fortune favored me for once, & I went to Columbia, instead of Stevenson, & consequently got home to-night.1 I have desired ever since the receipt of yours of the 19th inst. to write you a long letter2 but have signally failed. I shall possibly accomplish it to-night if sitting up late will do it. As I am on detail for the first extra train sent out, I may have to go in the morning; no one can tell, but to-night is my own if nothing happens. I will try at least to interest you, and if I can be instrumental in relieving your care or in anyway alleviating your trials, I will be happy indeed.
You told me in your letters of the 20th that you "live on my letters," & I feel sorry that what few you have received since that time are short & unimportant. Your last received yesterday evening looks more hopeful than any late news, & I pray God that Frankie's health may improve and your cares grow lighter. We cannot tell what the future may develop to us of joy or sorrow; yet the opportunity is offered for the strengthening of our Faith in Jesus, and the enlargement of our hopes. Two years ago we did not anticipate this sorrow. Then all looked prosperous, but are we less happy now? Had God in the dispensation of his Providence so ordered our afiairs that I were yet at home, who can tell but that some greater trial would have come to us. My heart responds to the sentiment expressed in your letter that in view of all the manifestations of God's mercy & his goodness ever exercised toward me, with his promises and assurances for the future, I feel that I should not repine or murmer though the hand of affliction be laid heavily upon me. It would be well for me perhaps, if I were with you, not only to relieve you of a portion of your care but to profit by the chastisement God has doubtless wisely intended for our good.
My duties have been so unremitting and severe as to allow but little time for reflection. I feel very much worn down, both in mind and body, yet enjoy excellent health. The guarding of the trains was a light job at first. We made a trip in 3 days & both nights were spent within the lines of our troops where we could lay down and sleep. But of late our engines have become so much out of repair as to require from 4 to 8 days & running almost every night, which keeps us on constant watch.
Our trip to-day was very pleasant. The country through which the [rail]road passes is not thickly settled, but is very beautiful. Franklin is on the rout[e], which I described in a former letter.3 My guards were all of our own Company [A], which makes it very pleasant. Cooley was among the number, and it is the first duty he has done [since his release from the guard house]. He seems to be very happy.
I hear some trains coming in [from Stevenson], & I presume some of the boys will soon be in. Lt. McMurray has been out since last Tuesday, over a week, & Lt. Fitch has been gone a full week.4 His wife is very uneasy about him. She has been ordered to vacate the room they had rented & did not know where to go till his return. I think she is stopping with Mrs. Love.
I have no late news from Johnie, none since the last I sent you. I have not had time to answer the [Remick] girls' letters yet, but will enclose some of them, as I cannot tell when I shall have opportunity to answer them. If I am so fortunate as to remain in camp to-morrow, I will try & write some. I recd. a letter this morning from Cousin Lucy J. Baker (formerly Dunmire).5 She is married to a gentleman who formerly went to school to me. He is a fine man & will make her a good husband though he was a widower & must have had quite a large family. She does not speak of having any family, however.
Quite a number of my scholars have gone to war, & many have died. Oh, what a record the closing of this war will present: of homes made desolate, families broken up, & of widows & orphans. All our relatives there are well. I will send you the letter as soon as answered.
I have not yet had time to write to Mother or Maggie. Lt. Smith says his wife is exceedingly anxious to see you. She regrets that she did not see things in their true light long ago & desires to make some reparation for her former conduct. I hope it may be lasting. Smith seems determined to keep up a constant broil in the company ever since his return [from furlough]. I am tried at times almost beyond measure, while I see no present remedy. He seems to forget everything that belongs to others' happiness in his grasping ambition for promotion, & places himself only in a more disgusting position.
I have just recd. orders to report at the North R. R. Bridge to take charge of a forage train at 5 o'clock, A.M., which will be quite an early start. I cannot tell when I shall get home but possibly to-morrow night. I have not yet heard where the guard comes from.
We have no news from the front. Genl. Hooker has crossed the [Tennessee] river with his Army.6 We may possibly hear of him soon.
Give my love to all the family. I hope father's health may continue to improve. When will Mother or Hannah write?
Let us, my Dear Wife, repose full confidence in the wisdom and mercy of our Heavenly Father. Though he chastise us, we will still love him. Though our trials be severe, yet we are hastening to our eternal home in Heaven. May God bless & keep you and continue his manifold blessings to us. Accept the sincere love
Your Affect. Husband
J. F. Culver
I shall devote a portion of the 3rd of next month to writing to you if I am in camp. By reference to the family record you can tell why.7 I have forgotten upon what day I may commemorate a like event for you. Please inform me in your next. I am looking anxiously for news from you.
Farewell,
J.F.C.