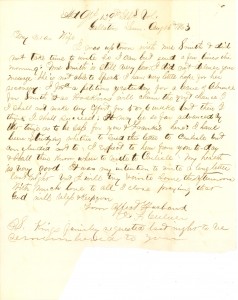 Hd. Qrs., 129th Ills. Vol.
Gallatin, Tenn., Aug. 16th 1863
My Dear Wife
I was uptown with Mrs. Smith & did not take time to write, so I can but send a few lines this morning. Mrs. Smith is still very low. I did not deliver your message. She is not able to Speak. I have very little hope for her recovery.
I ford. a petition yesterday for a Leave of Absence for Smith, & as [Captain] Hoskins will claim the next chance, I shall not make any effort for 5 or 6 weeks, but then I think I shall succeed.1 It may be so far advanced by that time as to be safe for you & Frankie here.
I have been Studying whether to send this letter to Carlisle but concluded not to. I expect to hear from you to-day and shall then know when to write to Carlisle.
My health is very good. It was my intention to write a long letter last night, but I will try & write some this afternoon. With much love to all, I close, praying that God will bless & keep you.
Your Affect. Husband
J. F. Culver
P.S. King's family requested last night to be remembered to you.
Lieutenant   Smith's   10-day   leave   was  approved  by   headquarters,   Army   of  the Cumberland, on Aug. 20, 1863. Regimental Papers, 129th Illinois, NA. [↩]