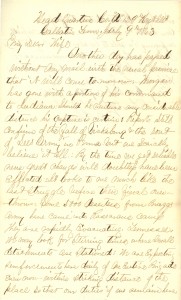 Head Quarters, Co. "A" 129th Regt. Ills.
Gallatin, Tenn., July 9th 1863
My Dear Wife
Another day has passed without any mail, with the usual promise that it will come to-morrow. Morgan has gone with a portion of his command to Indiana. Should he venture any considerable distance his capture is certain.1 Reports still confirm of the fall of Vicksburg & the rout of Lee's Army in Penna., but we scarcely believe it all.
By the time we get reliable news, great changes will doubtless have been effected. It looks to me much like the last struggle before their [the Confederates] final overthrow.2 Some 5000 deserters from Bragg's Army have come into Rosecrans' Camp.3 They are rapidly evacuating Tennessee.4
We may look for stirring times where small detachments are stationed. We are expecting reinforcements here daily of an entire brigade, even now within striking distance of the place, so that our duties if we remain here will have lighter duties to perform.5
Our health is still good. Russell is rapidly improving & is able to be about most of the time. I have nothing new to communicate. How I wish for some word from you. Kiss Frankie for me.
May God bless my Dear Wife
Your Affect. Husband
J. F. Culver