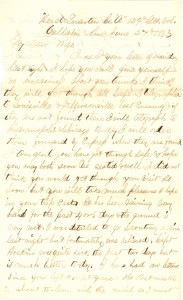 Head Quarters, Co. "A", 129th Ills. Vol.
Gallatin, Tenn., June 27th 1863.
My dear Wife
I recd. your letter of Monday last night.1 I hope you will give yourself no uneasiness about your trunks. I think they will get through all safe.2 I telegraphed to Louisville & Jeffersonville last evening, &, if they are not found there, I will telegraph to Indianapolis & Chicago to-day.3 I will order them forward[ed] by Express when they are found.
I am glad you have got through safe & hope you may both soon be rested & well. I did not think you would get through your visit so soon, but you will take much pleasure I hope in your trip East.4
It has been raining very hard for the past 4 or 5 days, & the ground is very wet. I was detailed to go Scouting again last night but fortunately was relieved. Capt. Hoskins was quite sick the past two days but is much better today.
I have had no letters since you left except yours. The Post master is about to leave with the mail so I must close. We are all well. Give my love to all. Tell Maggie I think Frank Culver a very good name for her boy.5 With many kind remembrances for all our friends & the prayer that God may abundantly bless you, I am, as ever,
Your affect. Husband
J. F. Culver