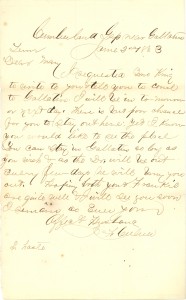 Cumberland Gap near Gallatin, Tenn.
June 2nd 1863
Dear Mary
I requested Mrs. King to write to you & tell you to come to Gallatin. I will be in to-morrow or next day. There is but poor chance for you to stay out here, yet I know you would like to see the place. You can stay in Gallatin as long as you wish, &, as the Dr. will be out every few days, he will bring you out.
Hoping both you & Frankie are quite well, & I will see you soon, I remain as ever.
Your Affect. Husband
J. F. Culver
In haste.