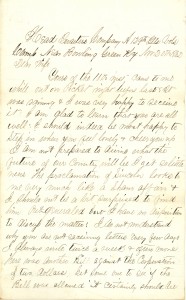 Head Quarters, Company A, 129th Ills. Vols.
Camp Near Bowling Green, Ky. Nov. 20th 1862
Dear Wife
Yours of the 10th inst. came to me while out on Picket night before last. It was raining, & I was very happy to receive it. I am glad to learn that you are all well. I should indeed be most happy to step in when you feel lonely & cheer you up.
I am not prepared to divine what the future of our country will be, I get so little news. The proclamation of Lincoln looks to me very much like a sham affair, & I should not be a bit surprised to find him out-generaled, but I have no disposition to discuss the matter.1
I do not understand why you are not receiving letters every few days. I always write twice a week & often more. There was another Bill against the Corporation of two dollars. Get some one to see if the Bill was allowed. It certainly should be.
You wish me to make some suggestions to assist you in writing. All the suggestions I can make is to give me every change in affairs & every little thing you can mention. All is interesting to me. I am glad my letter to the S. School has been received. I shall write again as soon as I can & shall also endeavor to write to the S. S. prayer-meeting.
We are just informed that we will leave here within a few days for Mitchelville, some 30 or 40 miles farther south.2 As we will be very busy preparing for the march, so you may not hear from me for a few days.
Marion Rush of our company died yesterday & was buried this morning. He was one of the best men in our company. My health is very good, & we are all getting along well. Mr. Rush, Marion's father, arrived here yesterday evening & left to-day. He has promised to call & see you the first time he gets to Pontiac.
I must be brief. I have considerable Company writing to do to-night. Write to me as often as you can conveniently. I cannot answer your letter in full. I recd. a letter from Sister Hannah [Culver] very similar to the one you recd. Give my love to all. Be sure & make yourself comfortable. If necessary sell off the furniture. I hope to hear from Duff & Fleming soon in relation to some business in their hands. Continue to direct [mail] as before. Kiss baby for me. Get him the wagon if you can.
Remember me to all our friends.
Farewell,
J. F. Culver
On September 24, 1862, President Lincoln issued his preliminary Emancipation Proclamation warning that on January 1, 1863, all slaves in states or parts of states in rebellion against the United States "shall be then, thenceforward and forever free," and the federal government would "recognize and maintain the freedom of such persons." This was a war measure and, as Mr. Lincoln's critics have pointed out, it did not free a single slave in territory under jurisdiction of the United States. A wave of fury swept the South. Lincoln was breaking the law of civilized warfare, outraging private property rights, and inviting a servile insurrection. Carl Sandburg, Abraham Lincoln: The Prairie Years and the War Years (New York, 1954), pp. 319-321. [↩]
Late in the third week of November, troops of General Rousseau's division of Thomas' corps, which were responsible for guarding Union supply lines between Mitchellville and Cumberland River, were ordered to concentrate at Nashville. To relieve Starkweather's brigade, posted at Mitchellville, General Granger was ordered to send a regiment to that point. O. R., Ser. I, Vol. XX, pt. II, p. 75.
Granger accordingly on the afternoon of Nov. 20 issued orders for the 129th Illinois to "take post at Mitchelville and relieve the brigade there now guarding stores and loading and unloading them, as soon as the trains ran through to Nashville, which will probably be within three days. This regiment had better make its camp at that place, some two miles out of Mitchelville, where there is said to be plenty of water. Their duty will be to protect the country around Mitchelville." Letter Books, 129th Illinois, NA. [↩]