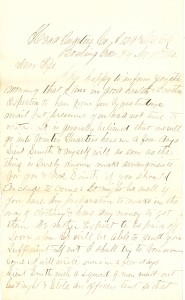 Head Quarters, Co. A, 129th Ills. Vols.
Bowling Green, Ky., Nov. 11th 1862
Dear Wife
I am happy to inform you this morning that I am in good health. I rather expected to hear from you by yesterday's mail, but presume you had not time to write.
It is generally believed that we will go into Winter Quarters here in a few days. Lieut. Smith & myself will, as soon as the thing is surely known, make arrangements for you & Mrs. Smith if you should conclude to come.1 It might be well if you have any preparation to make in the way of clothing & have any money to get them. We rather expect to be paid off soon, when I will be able to send you sufficient. If not, I shall try to borrow some. I will write more in a few days.
Lieut. Smith with a squad of men went out last night & stole an officer's tent so that [we] will be comfortable until we get into houses. Should we be sent into town, houses will be furnished; if sent any other place, we will immediately build so that if you come, you can enjoy the sight of an entire village of log cabins.
Bro. Cotton will send for his wife, & a great many of the officers will do likewise. I am satisfied that we can live thus much cheaper than to board.
Write soon. Give my love to all.
Your affect. Husband
J. F. Culver
It was common practice during the Civil War for officers' wives to visit their husbands when the armies were in winter quarters or during seasons of prolonged inactivity. For example, Mrs. Ulysses Grant frequently visited her husband. She was in Holly Springs, Mississippi, when that important supply depot was captured by Confederate raiders on Dec. 20, 1862. Every courtesy was extended to Mrs. Grant by the Confederate horse-soldiers, and guards posted to insure her privacy. Bearss, Decision in Mississippi (Little Rock, 1962), pp. 110-111. [↩]