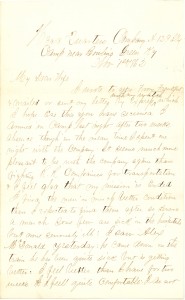 Head Quarters, Company A, 129th Ills.
Camp near Bowling Green, Ky.
Nov. 1st 1862
My Dear Wife
I wrote to you from Frankfort & mailed, or sent my letter by Express, with my watch which I hope ere this you have received. I arrived in Camp last night after two weeks absence though in the mean time I spent one night with the Company.1 It seems much more pleasant to be with the company again than fighting R. R. Companies for transportation, & I feel glad that my mission is ended.
I find the men in much better condition than I expected to find them after so severe a march. Some few are sick in the hospitals but none seriously ill. I saw Alex McDonald yesterday; he came down on the train, he has been quite sick but is getting better. I feel better than I have for two weeks. I feel quite comfortable; I do not think we will remain here long but expect Nashville will be our destination. There are no rebels in this part of the country & no reason that I can see why one should remain here.2
The Brigade was mustered yesterday for pay. I do not know when the paymaster will be around, but hope it will be soon. It may be two months or more. Many of the Regts. have recd. no pay for six or eight months. I have no news from home later than the 21st Octr. The 3rd of this month is my birth-day, 28 years have almost passed away as a dream.
I will now try & write to the S. School. I have wished to do so for a long time but have had no opportunity.3 What has become of the heifer I bought of Sammy? Unless you wish to keep her, you had better sell her this fall as you have no opportunity of wintering her. If you wish to keep her, try & make arrangements soon to have her kept. Will your cow pay her keeping or is she dry? I hope I shall be able to send you some money soon. I presume ere this Bro. Johnnie [Murphy] is much better. Please tell him for me not to be in a hurry to leave home. I feel anxious to know what disposition you have made of our house & what arrangements for yourself; tell me all about it when you write.
To-morrow is Sunday. Bro. Cotton came down with me, & we will have preaching. I hope we will not be compelled to march as I anticipate a very pleasant time.
I should be happy to hear from Bro. Johnnie as soon as he is able to write. We get no papers as they cumber the mails too much, so we have to depend upon our letters for all the news.
A sad accident happened in Miller's Battery a few days ago; by some act of Carelessness fire was communicated to one of the Caissons: it exploded injuring some six men, one died in a few hours afterward, & the other five are very seriously wounded. I was not acquainted with any of them & did not learn their names.4
One man of the Fairbury Company, named Cumpston, died in the Hospital at Louisville last week;5 this is the only man we have lost thus far.
Has Henry Greenbaum, Russell & Peter gone with Lace to form a Brigade Band yet?6 They intended to leave sometime ago. Give my love to Mother, Maggie, & all the rest. I saw a short paragraph from Hetty Autrim in her Cousin's letter saying that little Frankie was doing remarkably well. I am happy to hear it, & hope his mother is quite as well. Remember me kindly to all our friends. May the riches of God's Grace rest upon you all & ever keep you, my Dear Wife, preserve you & our babe's health &, if in accordance with His will, hasten the time when we may again enjoy each other's society & in all things keep us resigned to His will. Let us pray for it. Hoping soon to hear from you, I remain, as ever,
Your affect. Husband
J. F. Culver