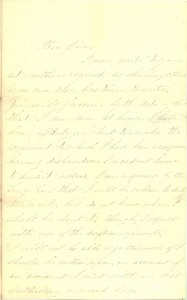 Bro. Joe,
I now write to you at mothers request, as she says there is no one else has time to write.
You will perceive by the date of this that I am now at home. I have been off duty for about two weeks, the regiment to which I had been assigned having disbanded. I was sent home to await orders. I am informed by the [Serg?] Gen that I will be called to duty this week, but do not know where I shall be sent to, though I expect with one of the drafted regiments, I will not be able to go this week if I should be called upon on account of an accident I met with on last Saturday a week ago.
I was assisting father to gather apples for cider, & while shaking a tree, a limb broke under me, giving me a glorious fall of about 18 ft. in which I sustained a fracture of the Astragalus, & dislocation of cuboid & scaphoid, (small bones in the ankle joint,) so that I am not able to walk without a crutch.
I do not know what advantages you may have of gaining information of the news of this place, so I shall mention some circumstances which have happened lately, & if it is stale news, no harm is done I hope. We have had considerable excitement on account of a raid of Stewart's (rebel) cavalry through this valley, who destroyed considerable property in Chambersburg, chiefly railroad property, from thence they went through Adams Co. & back to Maryland & finaly across the Potomac to Va. They took from this state about 1000 horses, besides other property, mostly clothing.
The draft took place two weeks ago, for 636 men from this County. Jacob [Ing?] was one of the number, though I hear he has procured a substitute for $100.00 Will Hastings. Dan Vankirk & many others paid $500.00 for substitutes, & some others paid from 600, to 800 dollars etc.
Hannah is in Harrisburg, she went down last wednesday to assist Annie Vanhorn to prepare for her wedding, which is to take place some day this week. Hannah is to be one of the waiters, I do not know the name of her affianced husband. He is a Harrisburg gent.
On last friday morning between 3 & 5 o'clock A.M. Jennie gave birth to a pair of twin daughters!!!!!! Quite surprising. Isn't it? They are both fine hearty children, & doing well [Din?] is rather delicate, though is doing well as might be expected all things considered.
My foot is quite painful & I must lay down, so I shall close for the present. As I said I do not know where I shall be sent to, but a letter directed to Carlisle would be received Mollie & both our little ones are quite well, they are up the river at Newton Hamilton at present on a visit to her sister Angeline. This leaves all the friends well.
Your Brother
W.W. Culver
Carlisle Oct. 28th 1862