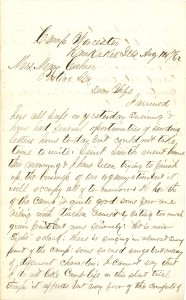 Camp Worcester
Kankakee, Ills. Aug 14th/62
Dear Wife
I arrived here all Safe on yesterday evening & have had several opportunities of sending letters home to-day but could not take time to write. Lieut. Smith went home this morning, & I have been trying to finish up the business of our organization, but it will occupy all of to-morrow. The health of the Camp is quite good; some few are ailing with diarrhea caused by eating too much green fruit but none seriously.
It is now eight o'clock. There is singing in almost every part of the camp, some sacred songs but many of different characters. I cannot say that I do not like Camp-life on this short trial though it affords but very few of the comforts of home. I have been interrupted for the last half hour by the return of a guard which I sent down to the city for some of the men who went away without a pass while I was thus engaged. A Stand was erected near our quarters, & now Speeches are being made by different soldiers, a great deal of cheering & noise accompanies. I am all alone, a privilege I do not often enjoy.
I hope you are well & happy; do not allow anything to give you trouble. I believe [God] requires this trial at our hands. Let us hope that we may have many years of peaceful Enjoyment in the future. "God ruleth all things well."
We go to Chicago on Monday next; if you wish, you and Mother can come up and spend some time. I hope you will be governed in the matter by Mother's judgment. She knows what is best. Our Camp will be one mile south of Camp Douglass & about three miles from Holmes's. The Street cars, I think, will run within a short distance. Write to me, directing your letter to Chicago.
I have not yet had time to think whether I have left any of my matters at loose ends. I shall try soon & take time to think them over. Do not always wait for my letters. You will feel happier, I believe, if you write often. Tell me all your troubles & let me share them with you. I have forgotten what you told me about Sammy; in fact, I was so much engrossed in business that I scarcely took time to think of anything that was not forced upon my mind, but I hope in a few days to be more at leisure. If anything demands my attention, please inform me.
I fear sometimes Sis & you must be lonely; gather all the Company around you possible. I would write to Sammy if I thought I could prevail on him to go & stay with you. Write me what you wish in the matter. Give my love to all. Write soon, & I pray that the Blessing of Heaven may rest upon you. Do not forget to pray for me, & may God preserve us both for the Enjoyment of many years [of] prosperity.
Your affect. Husband
J. F. Culver