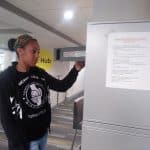 Notice anything new in the Biz Hub this semester? Since our ritzy remodel last semester, the Biz Hub has been getting even more in sync with what students and faculty need. For those of you who might spend an entire afternoon in the business building, this new addition really comes as a relief. Enter, the Tech Guard Locker Bay.
Rounding out at ten lockers total, each handy compartment comes complete with an AC outlet and USB port, so you can charge while you store!
For reference, these sleek new lockers are stacked nearest to the C337 Team Room, at the south entrance of the Biz Hub space. Easy to use instructions are located on the side of the lockers, as they are self-serve. All available lockers are lit in green and those in-use are in red. Simply create (and make a note of) a four-digit numerical password and enjoy!