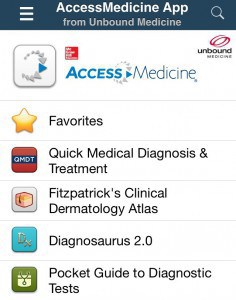 AccessMedicine is a collection of clinical tools and electronic textbooks. The app is powered by Unbound Medicine and provides access to a small portion of AccessMedicine.
The included resources are:
Quick Medical Dx and RX – Contains evidence-based outlines of conditions and disorders most often encountered in medical practice.
Fitzpatrick's Color Atlas of Clinical Dermatology – This landmark digital reference facilitates visual diagnosis by providing color images of skin lesions, plus a summary outline of skin disorders and diseases.
Diagnosaurus – A differential diagnosis tool with more than 1,000 diagnoses. Browse by symptom, disease, or organ system.
Pocket Guide to Diagnostic Tests – This handy guide is a quick reference to the selection and interpretation of commonly used diagnostic tests include laboratory procedures in the clinical setting.
This app is available for Android and iOS (iPhone, iPad, iPod Touch) devices. In order to download and continue to access to the app, you must have an active AccessMedicine account and sign in every 90 days through Hardin Library.
 1.       Go to AccessMedicine via Hardin Library http://purl.lib.uiowa.edu/accessmed
2.       Create an account by clicking on the box at the top right of the screen that says "Univ of Iowa Hardin Library."
3.       Select "Login or Create a Free Personal Account."
4.       Once you have your username and login, download the app from Google Play or the iTunes App store.
5.       Login with your AccessMedicine Account.
As always, if you have questions, comments, or concerns, please do not hesitate to contact us.