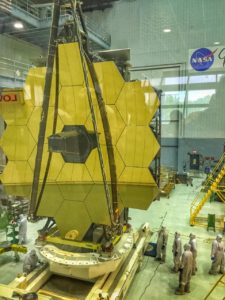 The James Webb Space Telescope will soon be on its way to take images of the first stars in the universe. The Ariane rocket will launch on December 22 from French Guiana and carry the James Webb Space Telescope to the stars. At the time of this writing, the James Webb Space Telescope countdown clock shows that launch will happen in 18 days, 15 hours, 36 minutes, and 26 seconds. After the telescope travels around one million miles away from Earth, it will unfold, cool down, calibrate, and deploy a sunshield the size of a tennis court!
A more powerful telescope than the famous Hubble telescope, the Webb space telescope has been called the "Next Generation Space Telescope." In addition to the magnificent sunshield, the Webb space telescope has infrared detectors, microshutters, and a cryrocooler. The infrared detectors will allow scientists to measure faint light sources of stars and planets, while the microshutters allow scientists to captures the images of multiple objects in the sky at once. The cyrocooler will keep one of the instruments on the telescope at a temperature lower than –448°F so that the instrument can capture light at mid-infrared wavelength. Perhaps the most beautiful part of the Webb space telescope is the gold hexagonal mirrors that will facilitate the collection of faint light from stars, planets, and galaxies so that scientists can learn more about these distant objects.
To read more about space telescopes, check out these books from the UI Libraries. To find more, search InfoHawk+ or contact a science librarian for help.