The solar eclipse viewing event at the Sciences Library was a huge success! Thanks to all who attended and many thanks to our partners, the Department of Physics and Astronomy and the Museum of Natural History.
In the end, we gave away over 1000 pairs of eclipse glasses! If you wish to recycle your glasses, you can bring them to the Museum of Natural History. Astronomers Without Borders will donate them to other countries for future eclipses.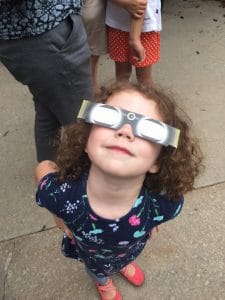 Hundreds of people visited our courtyard to watch the eclipse as a community. The clouds parted just enough to give everyone a great view of the peak of the eclipse at 1:12 PM, when 92% of the Sun was obscured by the moon.
Some also came inside to watch NASA's live stream of the eclipse, following the path of totality across the country from Oregon to South Carolina.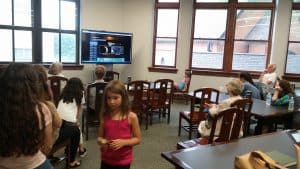 Have you caught eclipse fever? The next total eclipse will be July 2, 2019 and will be visible in South America. Your next chance to see a total solar eclipse in the United States will be April 8, 2024! I can't wait!