Welcome to the fall 2021 semester, Hawkeyes! We are happy to have you back on campus in-person this fall! You can find the Sciences Library located between Phillips Hall and the Biology Building on Iowa Ave.
Open Hours
Monday through Thursday: 8:30 AM to 9:00 PM
Friday: 8:30 AM to 5:00 PM
Sunday: 1:00 PM to 5:00 PM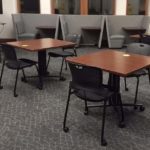 Study Spaces
Computer stations
Study carrels for individual use
Booths with USB and outlets for phones and computers
Large tables and large mobile monitors for group work
Find Books, Articles, and More
COVID-19 Safety
Use our hygiene stations stocked with disinfectant wipes and hand sanitizer
You are encouraged to wear a face mask and get your free covid-19 vaccination, if you haven't yet, to help keep our campus safe
Our book stacks are open so feel free to peruse the shelves!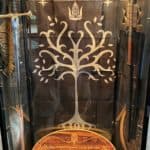 Lord of the Rings
Check out our display of swords and other replicas from the Lord of the Rings movies to celebrate their 20 year anniversary!
Have a great semester! We're glad to have you at the Sciences Library!