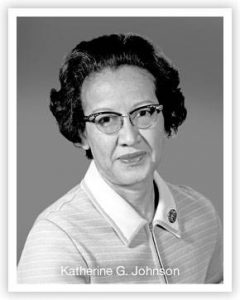 As recognized through the book and movie Hidden Figures, Katherine Johnson was one of the first African American women to work at NASA as a human computer. Born in 1918, she attended a two-room school in West Virginia. She excelled at school and skipped ahead several grades. She earned her bachelor's degree in French and mathematics at West Virginia State College (now called West Virginia State University) at the age of 18. She worked as a school teacher until moving on to work at Langley Research Center. In 1961, she performed the calculations for the first U.S. human flight into space, checked the computer's calculations for the first human orbit around the Earth, and continued her impeccable calculations through humankind's first visit to the moon. She worked for NASA until 1986 and received many awards, including the NASA Lunar Orbiter Award, NASA Special Achievement Awards, and Mathematician of the Year. In 2015, Johnson was honored with the Presidential Medal of Freedom. She died February 24, 2020 at 101 years old, leaving a legacy that lives on as an inspiration to future scientists.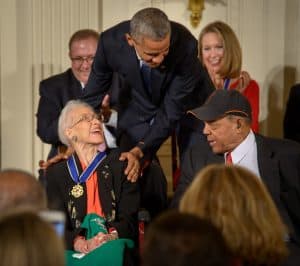 Watch Katherine Johnson's video oral histories:
You can also check out Hidden Figures on DVD, watch the streaming video, read the book, and watch NASA's supplementary videos From Hidden to Modern Figures.