As the HaloSat satellite flies hundreds of miles above us orbiting the Earth, it's a short trip to the Sciences Library to see a life-sized model of the HaloSat in our new exhibit! In addition to the 3D model of the HaloSat satellite, there are two gold boxes that have traveled into space and a prototype of the plasma wave instrument that operates on the Geotail mission!
After being released into orbit from the International Space Station, HaloSat takes measurements of the Milky Way's halo that will help scientists find out if it contains the missing matter expected from observations of the early universe. The gold boxes on display actually flew on the space shuttles Columbia and Challenger, and these flight sensors were the first objects to be moved around in space by a robotic arm. The plasma wave instrument that is based on the prototype shown in our exhibit traveled into space on Geotail in 1992 over 27 years ago and continues to send back valuable data from space to this day!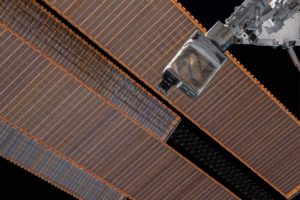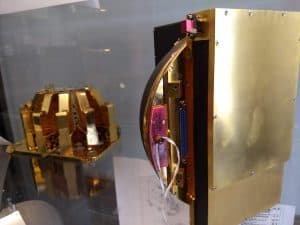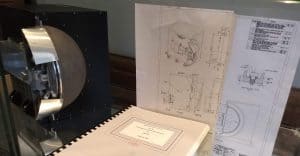 Thank you to the Physics and Astronomy Department for loaning us their models, prototypes, and flight hardware!
Learn more about space exploration, physics, and astronomy at the University of Iowa Libraries. We have numerous books, articles, videos, and even Manga comics! If you would like to find out more, contact Laurie Neuerburg (laurie-neuerburg@uiowa.edu or 319-467-0216) or Leo Clougherty (leo-clougherty@uiowa.edu or 319-335-3083) for help.