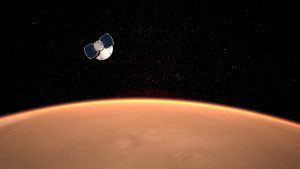 On this day in 1964, the Mariner 4 spacecraft launched and completed the first Mars flyby, marking today as Red Planet Day. Mariner 4 took snapshots of the surface of Mars and gave us our first up-close view of the planet. While Mariner 4 was meant to capture data only for a few months, it stayed in orbit collecting solar wind data for several years.
Just two days ago, NASA landed the InSight spacecraft on Mars. InSight will go under the surface of Mars to learn more about its interior structure by measuring its temperature and seismic activity. Knowing more about the Mar's interior structure will help us learn about its geological formation. As the geology and climate of Mars match most closely to Earth's of all the planets, Mars stands out as the most promising planet for possible human settlements and the most likely place to search for signs of alien life!
Celebrate Red Planet Day with some of our books about Mars!
We have fun films too!
Hope you have a Happy Red Planet Day!