What does the ancient paper folding art of origami have to do with science? While origami can be simple and fun for children, the applications of origami in the sciences have been sophisticated and complex. From mathematics and engineering to medical devices, origami has been the inspiration for responsive, elegant, and flexible innovations in science.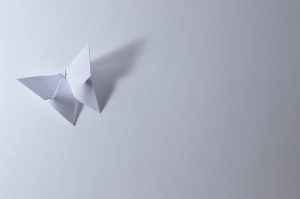 If you need a study break to clear your mind, try out origami at the Sciences Library. We have origami paper on hand for you. You can use our instructions for simple models, search online for diagrams, or create your own designs!
Combining origami with computer programming, Robert J. Lang has designed over 700 exquisite origami models displayed on his website, and he has applied his expertise in origami to problem solving in engineering and physics. Notably, he helped to design a prototype for a large folded telescope lens that was meant to fly compactly into space within a rocket and then unfold smoothly upon reaching its destination.
Researchers at Harvard and MIT have developed self-folding robots based on origami. In their research, it took less than five minutes for their robot to assemble itself from a flat template and then walk on its own. The idea is that self-assembling robots could be sent as flattened objects into tight spaces and then assemble themselves upon reaching their destination. The hope is that these robots could potentially be used in rescue work in unsafe areas due to wreckage or fallen debris.
The development of medical devices inspired by the folds in origami is underway. Examples of products being designed are stents, catheters, and drug delivery mechanisms that travel through the body in a collapsed, folded form and then expand to carry out their function. While more research is required before these devices are approved for medical use, it is thought that these origami-inspired designs will be safe devices that are minimally invasive to the body.
Read more about origami at the UI Libraries: 

Origami Design Secrets: Mathematical Methods for an Ancient Art 

Un/folded Paper in Design, Art, Architecture and Industry 
How to Fold It: the Mathematics of Linkages, Origami, and Polyhedra