Question: How do I access articles the library subscribes to through Google Scholar?
Answer: The answer to this depends upon where you are when searching Google Scholar. If you are using a computer connected to the campus network, Google Scholar automatically detects that and provides a text link to UILink. Follow that link to see if we have access to the article.

If you are searching Google Scholar from off campus, you have two options for getting Google Scholar to recognize that you are affiliated with UI. If you use our link (http://purl.lib.uiowa.edu/GoogleSch) from Databases A-Z, you will be prompted to log in with your Hawk ID and then UILink will appear in Google Scholar results.
If you are working off campus and prefer to go directly to Google Scholar, you can show it that you are UI-affiliated if you have a Google account. When logged in to your Google account and on the Google Scholar search page, go to Settings in the upper right, then Library links on the left side of the Scholar Settings page. Use the search box to locate University of Iowa, then the check box to turn on University of Iowa – ViewIt@UILink in results.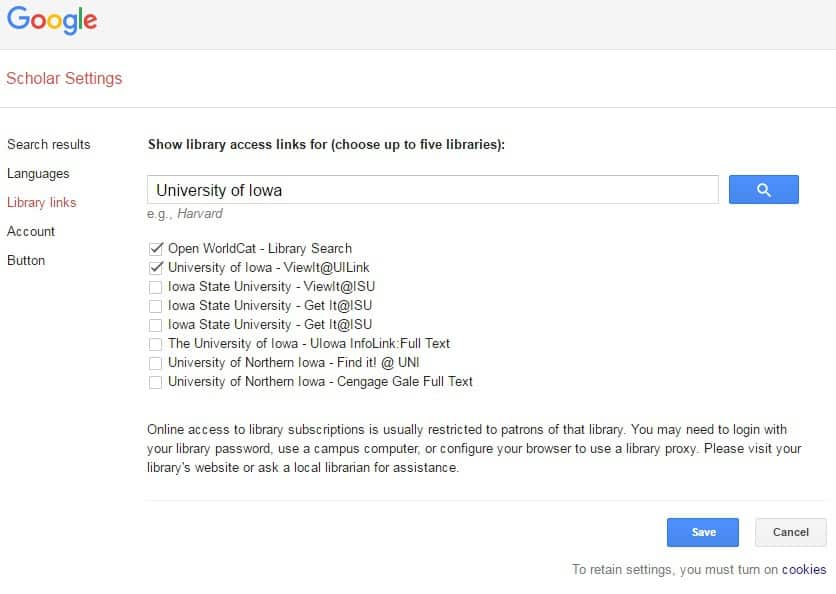 Note: You may need to uncheck "UIowa InfoLink:Full Text" first. And if you want to retain your settings across devices, you must turn on cookies.
If you have any questions or problems with setting up UILink in Google Scholar, please contact Sara Scheib.