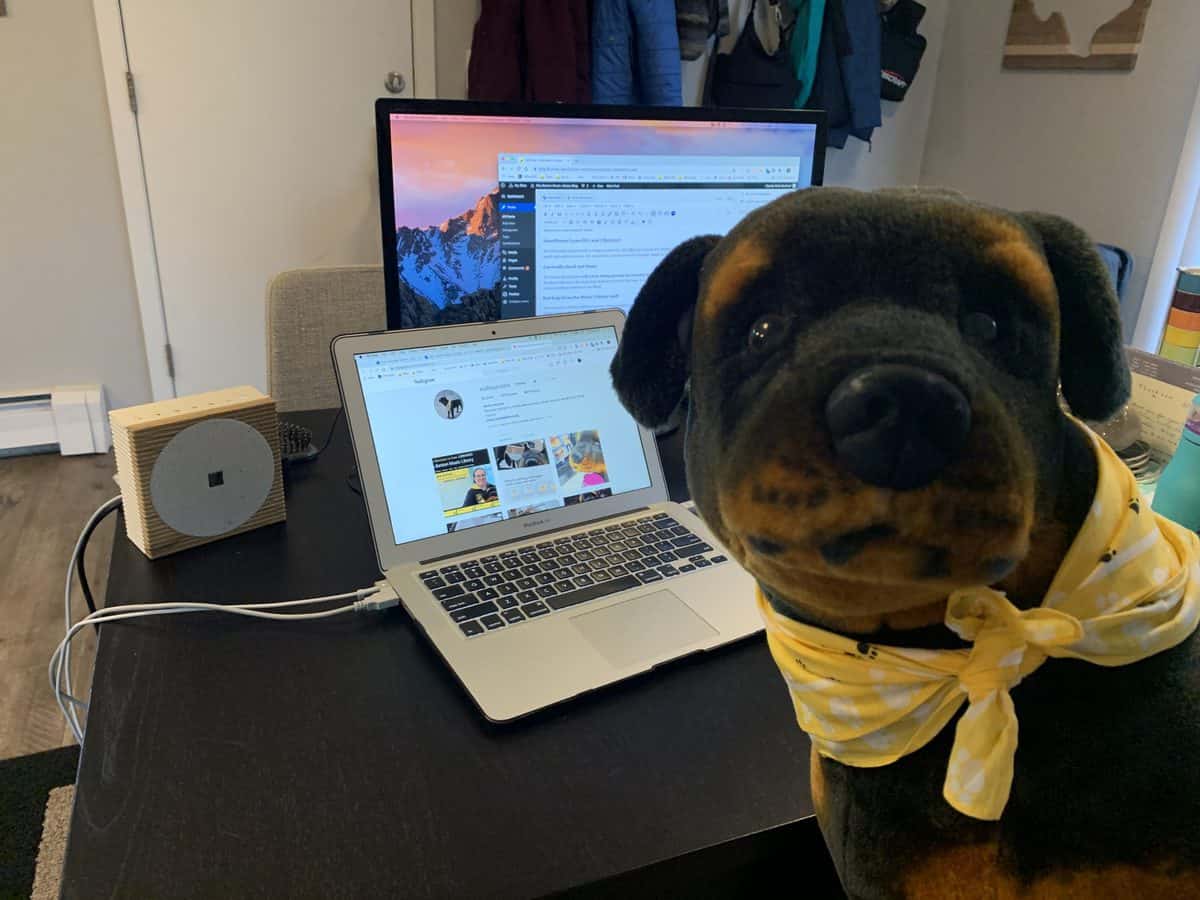 Greetings! Everyone's favorite library staff member, Wülfie Parsons, is back to help you navigate online library resources. The Music Library in Voxman may be closed, the Music Library ONLINE is thriving and ready to help you with your information and research needs.
Currently checked out items
The University Libraries will not be fining patrons for overdue items during this time. Please do not bring items to the Music Library or the book drop. Both are closed at this time. Just hang onto the items and plan to return them when campus building restrictions are lifted. If you have questions about your library account, please contact <lib-mus@uiowa.edu>.
Interlibrary Loan (ILL and UBorrow)
The University Libraries is not currently processing ILL and UBorrow requests for physical books, scores, and recordings due to health and safety concerns. Requests for articles, book chapters, and portions of scores (e.g., a movement, a song, a part but not the accompanying piano score) which can be scanned, may still be processed. This includes requests for items from the Music Library – think of the print collection as a remote library from which you can make scanning requests. Use the Interlibrary Loan form for all such requests.
Need help requesting a scan?
Watch this short video to see how to use InfoHawk+ and ILL to make your request.
Get help from the Music Library staff
You can contact library staff by emailing <lib-mus@uiowa.edu> account. The music librarian will still do consultations online (using Zoom or Skype), and you can schedule those here, and you can contact Katie via email at <katie-buehner@uiowa.edu>. And if you need help from me, Wülfie, you can find me on Instagram, where I am happy to answer your questions.
Scores
The Music Library recommends using the International Music Score Library Project (IMSLP) to find scores in the public domain, and BabelScores if you're looking for some new repertoire from up-and-coming composers around the world.
For other scores still in copyright, there are several sites that will let you view scores, even if you can't download. Here are three websites for finding full scores for study.
New York Philharmonic Digital Archives: The Leon Levy Digital Archives at the New York Philharmonic contains scans of over 3,000 scores and 30,000 orchestral parts, both in and out of copyright. Copyright scores are behind a watermark, but you can easily view the score for study purposes.
Publisher websites: Several major music publishers put perusal scores on their sites – not great for performing from, but perfect for studying. Some example include Universal, Boosey & Hawkes, Henle, and others. Not all publishers provide such previews, and you may find some composers within a publisher's catalog without previews, but it's worth checking!
YouTube: There are many score videos on YouTube that track the score over recordings of the work. Some scores are hard to read in this format, but for others, it's super useful!
Ebooks
If you're looking for ebooks, you can find them online using InfoHawk+. Use the left-hand facets to narrow your search to BOOKS and FULL-TEXT ONLINE. Resulting items should be ebooks. Sometimes, you have to click more than once to get to the ebook, but in the modified words of a cartoon fish, just keep clicking!
If the Libraries has a book in print and you'd like to find out if we can get an ebook version, email music librarian Katie Buehner <katie-buehner@uiowa.edu>. Not all books are available for libraries to purchase as ebooks, but she can find out what is and isn't available.
Cambridge Textbooks Online announced that they are opening their resource up until the end of May. We subscribe to some, but not all of this content. And now you can go to it directly and use it without logging in! There are other ebook vendors offering access to their collections through the end of the Spring semester, and we'll be working to make it easy for you to find and use all available ebooks.
Journal Articles
The good news? Most of our journal subscriptions are electronic! Search for the journal in InfoHawk+ and browse its contents using Browzine or use one of the music journal indexes to locate online article information (RILM, Music Index, Music Periodicals Database, etc.). Also, many publishers are opening up their content for the rest of the semester (e.g., JSTOR).
For articles that are only available in print (e.g., many of the instrument trade journals), you can submit an ILL request for the article and we will do our best to obtain a scan, either from our own collections or from another institution. Turnaround times for scans will be longer than usual. The Library will notify you if it cannot fulfill the request.
Sound Recordings
Our usual sound recordings subscriptions are available: Naxos, Music Online, and DRAM should help you locate many of the recordings you'll need in the weeks to come.
Video Recordings
Our usual video subscriptions are available: Naxos, Berlin Philharmonic Digital Concert Hall, Opera in Video, and Met Opera should help you to locate the recordings you'll need in the months to come. MANY musicians are posting new and old content to YouTube and social media, and some organizations are opening up access to their content (like Berlin and the Met), so now is a good time to get out there and watch some great musical performances!
Instagram
My Instagram feed will help you keep track of what's happening with the Music Library during the rest of the semester. I'm working from the home of music librarian Katie Buehner, and while I feel she's a little stingy with the treats it's been very fun. I made a new friend, Fiona the cat, and she might pop up in a story or two. And I'm interested in making new friends around the Libraries, so you might get to meet some other fuzzy library friends!