Each week we will highlight one of the many databases we have here at the Pomerantz Business Library.
The database: CCH Accounting Research Manager (ARM)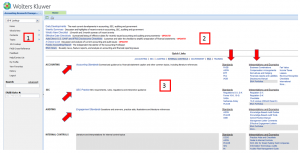 "Online database of expert-written analytical accounting, auditing,
governmental and SEC information as well as primary source data."
Where to find it:  You can find it here, and under "C" on Databases A to Z page.
Use it to find: Authoritative and interpretive literature on accounting, auditing, and related topics.  This content includes standards from bodies such the FASB, AICPA, IASB, GAO, and SEC.
Tips for Browsing:
CCH ARM offers a variety of browsing options.  There are three key entry points to begin browsing content from the home screen.
Left Navigation Pane (See area "1" in image). In addition to browsing options, this section offers a number of search tools such as "FASB Goto #," "10-K Lookup," and a basic general search.
News and Updates can be found at the top center of the page (See area "2" in image).
The Quick Links section takes up the bulk of the home page (see area "3" in image). It offers easy access to standards or interpretations and examples under each of the following topic areas:  Accounting, SEC, Auditing, and Government.
Tips for Searching:
As noted above, Basic searching begins via the search box on the left side of the screen (See area "1" in image above).  This option searches all content in CCH ARM.
The Advanced Search option can be accessed via the link just above the basic search box.
This option allows one to focus a search on specific publications or standards bodies; choose the number of results to display per page and how to sort them (by relevance or alphabetically); search word variants; fuzzy search (to account for alternate international spellings); and search within results.
Helpful Hint: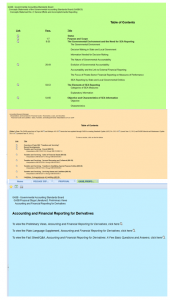 Document colors indicate document types:
White = authoritative guidance
Buff = interpretive guidance
Blue = proposal stage literature
Green = other
Want help using the CCH Accounting Research Manager?  Contact Jim or Kim to set up an appointment.
More of a self-starter?  CCH ARM has a great built-in tutorial. Look for the "Accounting Research Manager Tutorial" link  toward the bottom of the CCH ARM home screen. (Note: to view the tutorial it will ask you to enter your name, email address, and institution.)
CCH also has some helpful videos on YouTube as well on topics such as Searching for Keywords and 10-K Lookup.