Each week we will highlight one of the many databases we have here at the Pomerantz Business Library.
The database: Kompass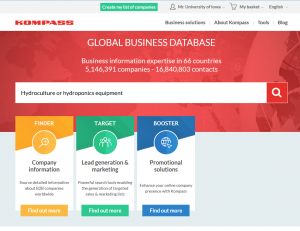 Where to find it: You can find it here, and under K in the databases A-Z list.
Kompass is a business to business import and export directory that enables you to gather information about other companies and promote your company in the global marketplace. Kompass business to business directory has 2.3M companies in 70 countries referenced by 57.000 product & service keywords 860,000 trade names, 4.6M executive names.
Use it to find:
Business information

Lists of company's activities and products
Trade names
Executives
Tips for searching:
Use the quick search bar
Filter using the left hand sidebar, by: Categories (company activity, company name, executives, etc.), Location, Number of Employees, and Activities.
Want help using Kompass? Contact Willow or Kim and set up an appointment.