Meet Jared Bock: recipient of a Dale M. and Mary Gail Bentz Libraries Student Employee Scholarship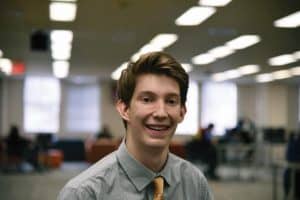 "I chose Iowa because it is the perfect distance from home, has a beautiful campus, and offers a diverse array of programs and people.
Working at the library has helped me foster interpersonal skills with coworkers and the general public. I get to interact with a wide variety of people on a daily basis and learn how to converse with people from all walks of life. This is a valuable skill that can be carried into any workplace, regardless of where I end up.
I had no idea what it takes to keep the libraries on campus up and running. The Business Library has two full-time librarians, and two other full-time employees with a long list of tasks. I have personally seen my supervisor Todd attend to several responsibilities at a time and still manage to help me or other student assistants when we need it.
Scholarships like these help to make education possible for a lot of people, and this award will undoubtedly assist me in funding my schooling."