Each week we will highlight one of the many databases we have here at the Pomerantz Business Library.
The database: Alexander Street Press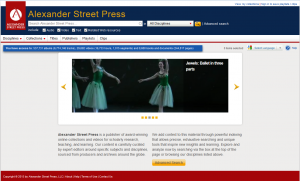 Where to find it: You can find it here, and under R in the databases A-Z list.
From their website: "Alexander Street Press is a publisher of award-winning online collections and videos for scholarly research, teaching, and learning."
Use it to find:
Videos + audio, text, and web resources
Includes materials in the following disciplines: Social Sciences (Business & Economics, Educations, Psychology, Religion & Thought, etc.), Art & Design, Diversity Studies, Health Sciences, History, Literature & Language, Music & Performing Arts, Science & Engineering, etc.
Business & Economic topics include:  Consumer Behavior, Corporate Communication, Corporate Governance, Economics, Entrepreneurship, Finance, Human Resource Management, International Business, Marketing Strategy, Strategic Management, Supply Chain Management
Tips for searching:
Use the search bar at the top, and select a discipline from the drop down menu.
Browse by disciplines, collections, titles, publishers, playlists, or clips
Want help using Alexander Street Press? Contact Willow or Kim and set up an appointment.