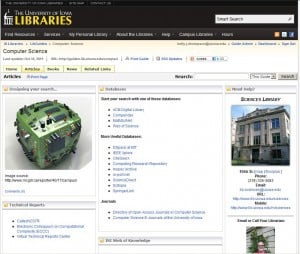 Some of our favorite tools to create resource guides for you is a software package called LibGuides.  LibGuides are digital bibliographies that allow us to point you to resources valuable to your specific discipline. 
We are excited to have published three brand-new guides recently: General Sciences, Computer Science, and Statistics and Actuarial Science. 
We hope you will take a peek at these great directories of resources available to you through the University of Iowa Libraries.  Don't forget our other guides, too!  You can find them on the Sciences Library homepage.