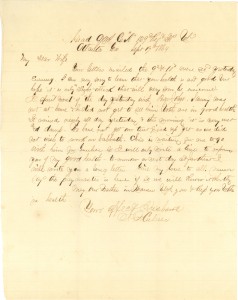 Head Qurs. Co. "A" 129th Regt. Ills. Vols.
Atlanta, Ga. Sept. 19th 18641
My Dear Wife
Your letters mailed the 9th & 10th were recd. yesterday evening. I am very sorry to learn that your health is not good, but hope it is only a slight attack that will very soon be overcome.
I spent most of the day yesterday with Bro. John. Sammy was not at home, & I did not get to see him. Both are in good health.
It rained nearly all day yesterday, & this morning it is very wet and damp. We have not got our tent fixed up yet, as we did not wish to work on Sabbath. Chris [Yetter] is waiting for me to go with him for lumber,2 so I will only write a line to inform you of my good health. To-morrow or next day at farthest I will write you a long letter. Give my love to all. Rumor says the pay master is here; if so, we will know it shortly.
May Our Father in Heaven bless you & Keep you both in health.
Your affect. Husband
J. F. Culver
The 1st Brigade took up the march from the Chattahoochee to Atlanta at 6 A.M. on the 16th, and, crossing the Peachtree Creek battlefield, reached the entrenchments they had occupied in front of the city at 8 o'clock. En route they "passed the graves of the fallen dear comrades, that were 'sleeping the sleep that knows no waking.' " After a halt of several hours, the march was resumed, and the brigade passed through Atlanta, going into camp about one and one-half miles south of the city. After falling out, a number of men visited the abandoned Confederate works. "They were very strong and in their erection every modern invention in the art of war had been added." On the 17th a suitable campground was selected by Colonel Case, and it was cleared of underbrush and debris. A number of abandoned frame dwellings nearby were razed by the soldiers, and the lumber and shingles used "in erecting tenements." Grunert, History of the 129th Illinois, pp. 102-04.
Colonels Case and Flynn on Sunday, the 18th, divided off the camp, assigning each company its area, within which "every four or five men were allotted a space of eight feet in width and twelve feet in length, to enjoy themselves in a glorious and noble style — in a straight line with the rest of the company." Ibid., p. 104.