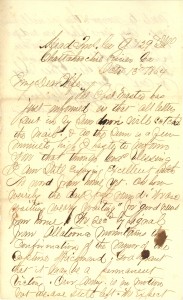 Head Qurs. Co. "A" 129th Ills.
Chattahoochie River, Ga.
Octr. 13th 1864
My Dear Wife
The Post Master has just informed us that all letters sent in by sun down will catch the mail, &, as the sun is a few minutes high, I haste to inform you that through God's blessing, I am still enjoying excellent health. No word from home yet. Oh, how wearily the days pass round. "We are waiting, weary waiting" for good news from home.
We recd. by signal from Allatoona Mountains the confirmation of the rumor of the capture of Richmond.1 God grant that it may be a permanent victory. Our Army is in motion, but we are still left.2 We expect mail to-morrow, & then we will have news.
May God bless you and our babe. Give my Love to Mother & Sister Maggie. May Holy Angels guard thee. Kiss baby for me. Good Bye.
Your affect. Husband
J. F. Culver
The message reporting the capture of Richmond was false. On the 13th General Ben Butler had made a forced reconnaissance of Confederate defenses on the Darbytown road, 8 miles southeast of Richmond, and found them formidable and covered by an extensive abatis. Humphreys, The Virginia Campaign of '64 and '65, pp. 293-94; Grunert, History of the 129th Illinois, p. 111.
General Sherman on the 10th, learning that Hood's army was crossing the Coosa 12 miles west of Rome, ordered his columns to converge on Rome. General Thomas was to mass his forces at Stevenson, Ala., to oppose a possible crossing of the Tennessee by the Confederates. At Kingston on the 11th, Sherman temporarily lost track of Hood. The Confederates had pushed to the northeast, their line of march hidden by Johns Mountain, and on the 12th appeared before Resaca and called on the garrison to surrender. The Federals refused. Leaving one corps before Resaca, Hood marched Stewart's to Tilton and Dalton, capturing both towns and their garrisons. Sherman on the 13th put his "army group" in motion for Resaca, where he arrived the next day. Hood, having failed in his efforts to seriously damage the Western & Atlantic, retreated westward to Villanow. So far all he had accomplished was to draw Sherman 100 miles from Atlanta, but Slocum's XX Corps continued to occupy that place. Cox, Atlanta, pp. 235-37.