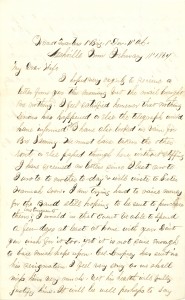 Head Quarters 1st Brig., 1st Div., 11th A.C.
Nashville, Tenn., February 11th 1864
My Dear Wife
I hoped very eagerly to receive a letter from you this morning, but the mail brought me nothing. I feel satisfied, however, that nothing serious has happened, or else the telegraph would have informed me. I have also looked in vain for Bro. Sammy. He must have taken the other route or else passed through here without stopping. I have received no letters since I last wrote. I wrote to Mother [Culver] to-day & will write to Sister Hannah soon.
I am trying hard to raise money for the Band, still hoping to be sent to purchase them instruments. I would in that event be able to spend a few days at least at home with you. Don't you wish for it, too? Yet it is not sure enough to base much hope upon. Col. Cropsey has sent in his resignation. I feel very sorry, as we shall miss him very much. Yet his health will fully justify him. It will be well, perhaps, to say nothing about it, as I think he wishes to keep it quiet, especially as it may not be accepted.1
We are all getting along quietly here. Almost every day we hear rumors about moving. The pay-master is busy paying the Brigade. I have not seen Capt. Hoskins to-day, but he was better yesterday. I hope he will succeed in getting a leave of Absence. I have enclosed Cordie Dunmire's letter, thinking you would like to read it. I wrote to Joe Culver to-day. I believe you saw his letter to me.2  Alf. Huetson was down to see me to-day and drew my horse upon the wall. It was so well done that the Col. [Harrison] says he will prove invaluable in the Engineer Corps, and he will probably be included in its organization.3  Christ [Yetter] & Nate [Hill] were out this morning, they are both in good health. My health is good, except a constant tickling in my throat. I am taking some medicine to-night.
I earnestly hope to-morrow's mail may bring me a letter from you. Give my love to all. Write often. May the blessings of Heaven rest upon you. Remember me kindly to all our friends. You need not be surprised if I make my appearance there some night. Will you let me in?
Your Affectionate Husband
J. F. Culver
Andrew J. Cropsey's resignation as lieutenant colonel of the 129th Illinois Infantry was accepted February 27, 1864. Compiled Service Records of Union Soldiers, NA.
The letter from Joseph Z. Culver is missing from the Culver Collection.
On March 21, Corporal Huetson was detached to headquarters,  1st Brigade, First Division, XI Corps, as topographical engineer.