In my last post I described the process I undertook in determining my project's path and the design steps I had completed up to that point. I am thrilled to say that my work has followed an iterative design process that was continually evolving. This is in large part due to Heidi Wiren Bartlett, Creative Coordinator/Designer at the Digital Scholarship & Publishing Studio, who was generous in sharing her perspectives on my project and logo design. It turns out I was right to be nervous about sharing my previous logo as it had many flaws that only now in retrospect, I am able to see. Below is the original logo  design (top), a draft in transition (middle) as well as the revamped logo (bottom).
Heidi was the catalyst that spurred this transformation, not only of the graphic design, but also in how I conceptualized my scholarship. Not only was she able to show me how to do numerous things in Illustrator like duplicate artboards and add/remove anchor points during our conversations she was able to bring out insights on my research that I had not thought of before. When I began analyzing the research data and this concept of digital media-cation – a cooperative engagement in digital media used to enhance distraction during medical procedures – emerged from the findings I thought that the concept required the term "digital" in order to be understood.  Rather, it seems that this term is implied, especially when the findings are translated into an infographic that focuses solely on that type of media. This was a pleasant little epiphany for me when I realized I didn't need to constantly reinforce that to the reader and allowed the design process to move forward.
Creating this logo helped me to feel confident in the theme that I was fostering for my infographic and spurred a new burst of reformatting and design activity. These activities included creating a style guide that provided consistency throughout while also leaving some flexibility, when needed. I continually tweaked and revised the infographic and finally feel that it is suitable for viewing on a monitor, laptop or even printed as a poster. In line with my original ambition to design something for use on mobile devices I than began the process of translating the full-size infographic to one that could be viewed on a smartphone. This required splitting it up into sections that could be viewed as individual "screens" as well as using design elements and integrating a menu bar for helping the viewer navigate those screens.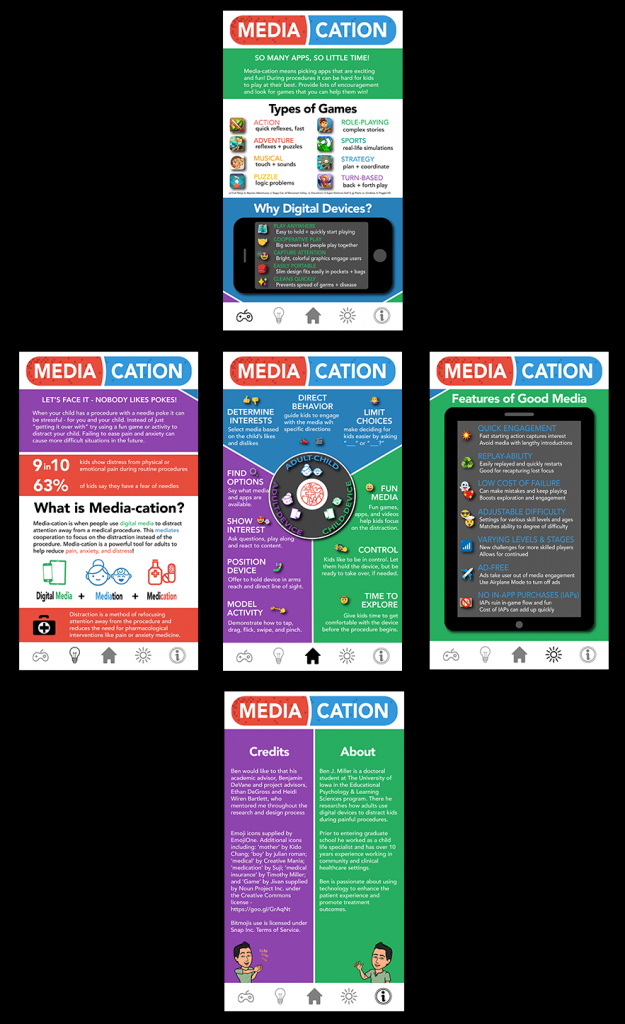 However, even as this fellowship comes to an end I know that this project will continue to evolve. I am currently in discussions with the local children's hospital to possibly integrate these mobile slides into their patient entertainment system whereby parents and their kids could actually access and learn about media-cation in the patients' rooms. I'm hopeful that I'll continue to learn new skills in the Adobe suite and sneaking back into the studio whenever there's a workstation available!