Composers and poets love to write about May, a month characterized by seasonal change, the flowering of long dormant plants, and here at Voxman the end of the semester and for some students, graduation!
Enjoy a sampling of May songs and N'Sync silliness before heading into summer.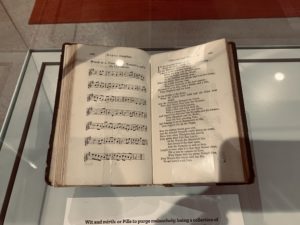 Wit and mirth: or Pills to purge melancholy; being a collection of the best merry ballads and songs, old and new : fitted to all humours, having each their proper tune for either voice, or instrument : most of the songs being new set.
London : Printed by W. Pearson, for J. Tonson?
The 2nd issue of the 1719-1720 edition, reprinted 1876
Rita Benton Music Library Rare Book Room, M1738.A2 D9
Pills to Purge Melancholy is a six-volume set of songs first published in the late seventeenth and early eighteenth centuries. Started by publisher Henry Playford, the set is more often identified with latecomer Thomas D'Urfey, whose works feature in the earlier volumes and who became its editor in 1719. This particular printing is actually a 19th century reprint of a 1719-1720 edition. This copy belonged to Ernest Horn, who was a professor of education at Iowa (1917-1952). Horn Elementary School on Koser Avenue in Iowa City also bears his name.
The songs in Pills are often humorous and downright dirty, but the text of "In the pleasant month of May" are relatively benign, despite Cupid's arrows leading "every Shepherd and his Mate…longing to try in Enjoyment to die"
---
The sovereign : a collection of songs, glees, choruses, &c. for conventions, musical societies, singing classes, etc. / by H. R. Palmer.
New York : Biglow & Main, 1879
Rita Benton Music Library Rare Book Room, M1547 .P34
The Sovereign is a compilation of songs by teacher, conductor, and composer Horatio Richmond Palmer, who directed the Church Choral Union and Chautauqua assemblies in the latter half of the nineteenth century. His best know publication, The Song Queen (1867), was the start of a successful run of other songbooks that included both sacred and secular tunes.
There are multiple songs about May in this volume, including "Little Maggie May" (ok, not EXACTLY about the month, but the text begins, "The spring had come, the flowers in bloom"), "Lo the glad May morn," "Merry May," and the tune on exhibit, "Smiling May."
The songbook opens with an essay called "An Open Letter to All Singing People" The entire essay is a fascinating look at conducting and performing practice of its day, with some of its advice still applicable for ensembles today. For example, Palmer admonishes directors, "Don't say 'sing me a half-note,' 'sing me a quarter-note,' etc. A note cannot be sung any more than a tone can be seen. Don't teach that Pianissimo requires three or four p's, or that Fortissimo requires three or more f's. Pianissimo means that the tone or passage should be performed as softly as possible, and is indicated by pp, and more p's will not make it softer."
---
No String Attached / *NSYNC.

New York : Jive, 2000
Rita Benton Music Library CD 49360
Donated by Dr. David Gompper
Read the history of "It's Gonna Be May" at KnowYourMeme.com
Featured image for this post by Lydiamin453, Wikimedia Commons.