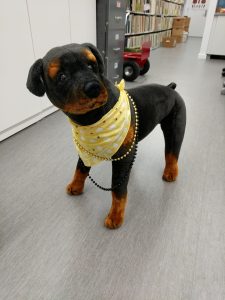 In the summer of 2018, the Rita Benton Music Library "adopted" Wülfie Parsons, who belonged previously to Dr. Donna Parsons.
Wülfie knows that this year will be quite different for Hawkeye students, so he's returning with another list of tips for how to navigate the library like a pro in 2020.
Please note that the Music Library will reopen during the first week of classes as soon as we have plexiglass barriers installed at our Service Desk. Pickup service will begin the week of August 17th.
Fall 2020 hours will be Monday-Friday, 8am-5pm.
A full guide on library services for Fall 2020 is accessible here.
---
1. MASK UP!

All visitors to the Music Library will be required to wear a mask. You may wear a face shield in addition to the mask, but Voxman Music Building visitors are not allowed to only wear a face shield. Each member of the UI community received a packet of masks, hand sanitizer, and face shield, and there are many local vendors selling protective equipment that you can use to promote public and personal health and safety.
All Music Library staff will be masked. There will be plexiglass barriers at the Service Desk, too, to protect library visitors and staff. If we are brief and business-like in serving you at the desk, it will be so that you will not have to linger in our space any longer than necessary.


---
2. Social distance using the Rule of Three Wülfies
Please keep six feet of distance between yourself and other people in the Music Library. It can be tricky to measure six feet without a tape measure, so we recommend THREE WÜLFIEs of space as an alternative measuring device.
There will also be markers on the floor, spaced six feet apart, that can be used to queue at the Service Desk.
(No, Wülfie, we aren't going to get two more dogs at the Library. Just you, pal!)
---
3. Need library materials? Use Pickup, Delivery, and Scanning Services.
The University of Iowa Libraries will operate with closed stacks when they reopen this Fall. This means using the library will be like patronizing many area restaurants, in that the RBML will offer pickup, delivery, and scanning* services of library books, scores, and recordings to meet the needs of students, faculty, and staff. This will give Wülfie time to build up his skills at playing fetch!
Directions on how to request pickup, delivery, and scanning* services are available here.
*Please note that scanning requests must be limited to a chapter of a book or a portion of a score (a part, movement, song) due to copyright restrictions.
---
4. Public seating closed 🙁
Social distancing in the Music Library is very hard because we have so many book stacks and much of our furniture cannot be moved around. Therefore, the study space in the Music Library will be closed for Fall 2020. Wulfie will be posting about study break activities this fall you can do in your dorm room, at home, outside, and other social distancing locations to help you with breaking the monotony of staring at your computer screen.
There is one exception –
If you are a graduate student in music, you may reserve a study space for up to two hours in the Music Library using an online booking system. You will not be able allowed to directly access stacks, but will need to place any materials requests at the Service Desk. Seating is limited and will be first-come, first-served. This service is being provided primarily to support grad students who are working on dissertation or thesis projects and those who are studying for comprehensive and qualifying exams. Go to this webpage to learn more and book a space.
Please do not request a study space if you are not a graduate student in Music. Wülfie will cancel your reservation, and then he'll get all growly.
---
5. Print and Scan.
The Music Library has relocated the public printer to the glassed-in area by the Service Desk for your convenience. The overhead scanner in the Music Library is being temporarily reassigned for staff use to fulfill an anticipated increase in patron scanning requests.
The overhead scanner and printer in the ITC are both available to UI students, faculty, and staff. However, the door between the Library and the Computer Lab will be locked for Fall 2020 – all entry must be through the swipe door off the hallway.
---
6. Asking for Help
Music Library staff will be available to help with all your questions in a variety of ways.
Email: lib-mus@uiowa.edu
Email is a great option if you need to share a link or screenshot or other information with a staff member so they can help you figure something out.
Phone: 319-335-3086
Phone is a great option when you need to check on something related to your patron account, see if we're open, or talk through something simple.
Consultation: Make an appointment
Consultations are a great option if you need help starting a research project, understanding a concept, or need to have a longer conversation where maybe you look at a database or online tool with the music librarian. Consultations will take place on Zoom.
Connecting with everyone's favorite library pup: Follow Wülfie on Instagram @wulfieparsons
Following Wülfie is a great way to enjoy a little laughter now and again, and to see what's changing around the Music Library.
---
7. What's online?
SO MANY of the Music Library's resources are actually online! We have streaming audio and video databases, scholarly journals in digital format, and even some music scores. Here are some of Wülfie's favorite resources:
Naxos Music Library (available in desktop and app): Over 2 millions tracks and counting, from labels like Warner, Sony, Harmonia Mundi, Hungaraton, and of course, Naxos! You can find classical music galore, plus movie and Broadway soundtracks. Use Naxos Jazz to access even more recordings. (see the 2019 "Jazz Cats Allowed" Accord on Instagram)
BabelScores: New last year, BabelScores provides access to online sheet music from contemporary composers around the world. Looking for new and upcoming repertory? This is a great place to search. You can download pdfs, and in some cases, listen to a recording in addition to viewing the score.
Bloomsbury Popular Music: If you're interested in music of the 20th and 21st century, I highly recommend looking at the scholarly books and other resources available in BPM. Of particular note is the 33 1/3 series, in which individual albums are examined, like the Beach Boys Pet Sounds or Koji Kondo's Super Mario Bros. Soundtrack.
Database of Recorded American Music (DRAM): This resource contains some of the best recordings by American groups and of music by American composers, especially of 20th century repertoire. Contains a lot of chamber, band, and electronic music. Check it out!
Berlin Philharmonic Digital Concert Hall: This collection of HD video recordings is hard to beat – world famous performers and conductors with one of the best orchestras delivering mostly standard repertoire (but there are some premieres and other unusual works in there). You'll have to make an account with your Hawk email the first time you log in, but then you should be set to start streaming.
Want more? Check out the resources on our 2020 Music Library Guide.
---
That's the last word – or bark – on the start of 2020. Even if we don't see you in person this Fall semester, all the best of luck with your classes, and stay safe!
Your Rita Benton Music Library full-time staff,
Katie Buehner
Christine Burke
Amy McBeth
Wülfie Parsons