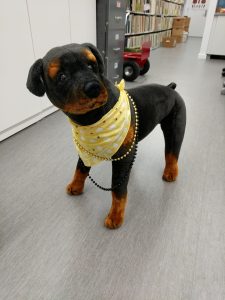 In the summer of 2018, the Rita Benton Music Library "adopted" Wülfie Parsons, who belonged previously to
Dr. Donna Parsons
.
He's a born and bred Iowa pup, and is settling in nicely to his new home here in Voxman.
Wülfie will be around the Music Library, usually near the Service Desk, so be sure to stop by and say hello! In the meantime, here are Wülfie's top five things to know about using the Music Library in 2018.
---
1. Check out some music

There are over 200,000 items in the library stacks, most of which are scores.
Find something that you want to play, hear, or read and use your Iowa One card to borrow it from the Library.


---
2. Find a great place to study
There are large tables, windows, benches, weird 50s looking chair pod things, and Wülfie's personal favorite seats, the study carrels. Get comfortable, bring a cup of coffee, and a stack of books or scores, and study in the Music Library.


---
3. Use library equipment to record music
The Music Library has two Zoom H4n digital audio recorders and one Zoom Q8 video recorder available for check out that can be used to record practice sessions, recitals, lessons, or other musical endeavors. Items circulate for one day.


---
4. Check out library exhibits
The Library exhibits materials from the School of Music Archives, its vast collections, and much more. This fall, the Library will mount an exhibit highlighting theses and dissertations by School of Music graduates, including critical editions, compositions, recording projects, and historical research on music in the Midwest, Iowa, and the School of Music. This spring, there will be two exhibits mounted by undergraduate and graduate students enrolled in music classes. Right now, the case is empty, but Wülfie thought he would make an engaging exhibit item.


---
5. Make a new friend
Wülfie thinks the Music Library is a pretty great place to study with friends, and even make new friends. You'll meet other students in the School and students from other programs, see faculty looking for new music to play or a book for their latest research project, your friendly neighborhood Music Library staff members, and of course, Wülfie!