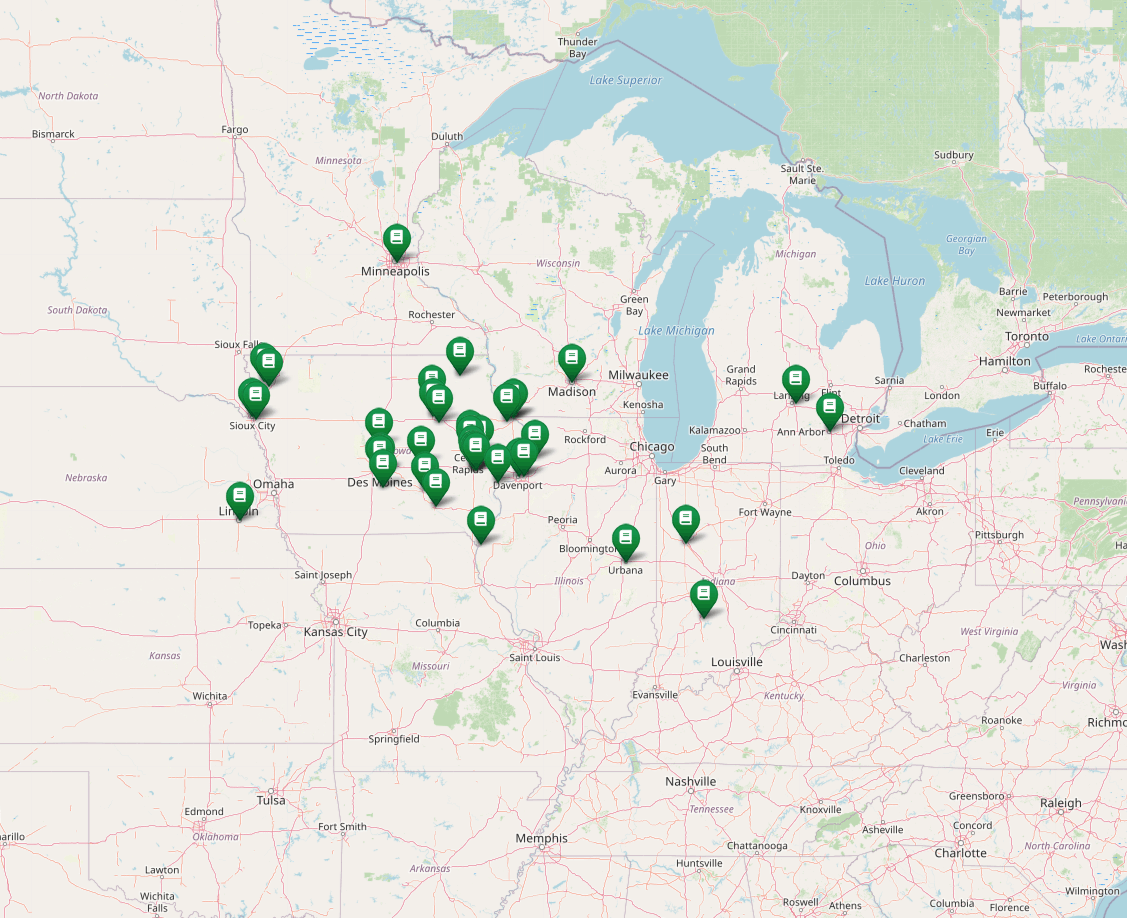 University of Iowa students can return items to the UI Libraries from afar by dropping off items at one of 47 participating libraries across the state and region. See a map of these locations or the list of locations at the end of this article.
The UI Libraries has spearheaded this special service to help students living far from campus due to the pandemic. With the aid of partnering public and academic libraries, the UI Libraries will continue to offer this service while it's needed.
This network of libraries is participating in an unprecedented cooperative project to assist library users who are sheltering far from the library from which they borrowed items. Each library in this network will accept items from the other participating libraries and return those items at no cost to the borrower.
Students who have University of Iowa library books to return can check the UI Libraries' book return map for drop-off locations in the state and region. Students without access to a drop-off library and those living further than 30 miles from Iowa City can request a UPS shipping label.
Students living near campus are encouraged to return books at the Main Library drop box (125 W. Washington Street, return slots available at both the south and north entrances) or the Hardin Library drop box (600 Newton Road, next to the entrance that faces University of Iowa Hospital and Clinics). Students with tools or electronic equipment should schedule a drop off to ensure the security and safety of the items.
Art Library: Please use the drop box inside the library.
Business Library: Schedule a time by emailing lib-bus@uiowa.edu
Engineering Library: Schedule a time by emailing lib-engineering@uiowa.edu
Hardin Library: Please use the drop box for books and DVDs. Please return non-book items to the service desk.
Main Library: Please use the drop box for books and DVDs. Schedule a time for non-book items by emailing lib-maincirc@uiowa.edu
Music Library: Please use the hallway book drop on the first floor of the Voxman Music Building.
Sciences Library: UI users (students, faculty, and staff) can enter the facility to return materials. Non-UI users should use the book drop or schedule a time by emailing lib-sciences@uiowa.edu.
Before returning library items, please observe the following safe-handling practices:
Do not clean, disinfect, or microwave library materials before returning them. For example, do not use water, Lysol, or any other cleaner on materials.
If you or your family members are sick or have been sick, seal materials in a zip-lock style bag if possible before returning.
Wash your hands or use hand sanitizer before handling library materials for return and again after you have completed the return.
List of locations for materials return
Iowa State University Parks Library, 701 Morrill Road, Ames, IA
DMACC Ankeny campus Library Bldg 6, 2006 S. Ankeny Blvd, Ankeny, IA
Scott Community College Library, 500 Belmont Rd, Bettendorf, IA
DMACC Boone campus Library, 1125 Hancock Drive, Boone, IA
Northeast Iowa Community College Library Student Center, 1625 Hwy 150 S., Calmar, IA
DMACC Carroll campus Library, 906 North Grant Rd., Carroll, IA
University of Northern Iowa Rod Library, 1227 W 27th Street, Cedar Falls, IA
Mount Mercy University Busse Library, 1330 Elmhurst Drive NE, Cedar Rapids, IA
Kirkwood Community College Library Benton Hall, 6301 Kirkwood Blvd. SW, Cedar Rapids, IA
Clinton Community College Library, 1000 Lincoln Blvd, Clinton, IA
Coralville Public Library, 1401 5th Street, Coralville, IA
Southwestern Community College Library, 1501 W. Townline Street, Creston, IA
Saint Ambrose University Library, 518 W. Locust Street, Davenport, IA
DMACC Urban/Des Moines campus Library Bldg 1, 1100 7th Street, Des Moines, IA
Drake University Cowles Library, 2725 University Avenue, Des Moines, IA
Grand View University Library, 1350 Morton Avenue, Des Moines, IA
Mercy College of Health Sciences Library Sullivan Center, 928 6th Avenue, Des Moines, IA
Loras College Library, 1450 Alta Vista, Dubuque, IA
University of Dubuque Charles C. Myers Library, 2195 Grace Street, Dubuque, IA
Grinnell College Library, 1111 6th Ave, Grinnell, IA
Simpson College Dunn Library, 508 N C Street, Indianola, IA
Kirkwood Community College Library, 1816 Lower Muscatine Rd, Iowa City, IA
Iowa City Public Library, Iowa City, IA
University of Iowa Hardin Library, 600 Newtown Road, Iowa City, IA
University of Iowa Main Library, 125 W. Washington Street, Iowa City, IA
Southeastern Community College Fred Karre Memorial Library, 335 Messenger Rd, Keokuk, IA
Cornell College Cole Library, 320 3rd Street SW, Mount Vernon, IA
Muscatine Community College Library, 152 Colorado Street, Muscatine, IA
North Liberty Public Library, 520 W. Cherry Street, North Liberty, IA
Northwestern College DeWitt Library, 101 7th Street SW, Orange City, IA
William Penn University Wilcox Library, 201 Trueblood Avenue, Oskaloosa, IA
Indian Hills Community College Library, 525 Grandview Avenue, Ottumwa, IA
Northeast Iowa Community College Library, 8342 NICC Drive, Peosta, IA
Dordt University Hulst Library, 700 7th Street NE, Sioux Center, IA
Briar Cliff University Bishop Mueller Library, 3303 Rebecca Street, Sioux City, IA
Morningside College Library, 1501 Morningside Avenue, Sioux City, IA
Hawkeye Community College Library Main Campus, 1501 East Orange Road, Waterloo, IA
Wartburg College Vogel Library, 100 Wartburg Blvd, Waverly, IA
University of Illinois Main Library, 1408 W Gregory Drive, Urbana, IL
Indiana University Wells Library, 1320 E. Tenth Street, Bloomington, IN
Purdue University Library, West State Street, West Lafayette, IN
University of Michigan Hatcher Graduate Library, 913 S. University Avenue, Ann Arbor, MI
Michigan State University Main Library, 366 W. Circle Drive, East Lansing, MI
University of Minnesota Wilson Library, 309 19th Avenue S, Minneapolis, MN
University of Nebraska Love Library, 13th & R Street, Lincoln, NE
University of Wisconsin Memorial Library, 728 State Street, Madison, WI