Two student employees of Hardin Library won academic scholarships this year.
Jacob (Jake) Edwards is pursuing a major in English with a political science minor. Jake won the Dale M. and Mary Gail Bentz Libraries Student Employee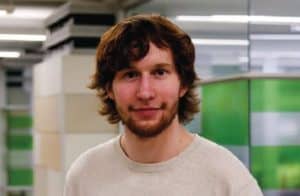 Scholarship. "Working with books has always been something I wanted to do. I have enjoyed learning how to find books via the library website, as well as learning how everything is categorized."
"I want to be a teacher, and I think these skills will help me to help my students perform better when required to conduct research exercises."
"This scholarship will allow me not to go into further debt while trying to obtain my degree. I am so grateful that I will be able to focus on my work at Scattergood Friends School."
"I am looking forward to going to graduate school here at the University, as well as obtaining a teaching position at one of the local high schools. I specialize in Victorian fiction and want to be able to bring these novels into the classroom and to the lives of my students."
Mikaela Johnson is pursuing pre-medicine with a major in human physiology. Mikaela won the UI Libraries Student Employee Scholarship.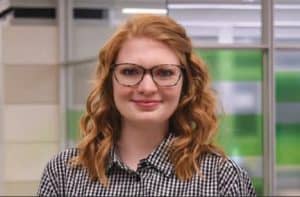 "The exposure to public services through working at the library has made me feel more confident being a voice and a leader in my classes here at the university. I have led many discussions as well as given presentations to large groups of people that I didn't feel as comfortable with before."
"Growing my communication and public service skills at the library is also improving my patient interaction as a volunteer at the University of Iowa Hospitals and Clinics. These skills I have acquired as an employee are a strength that I can continue to work on and can take with me to my future career as a doctor and caregiver."
"The staff I am surrounded with everyday is dedicated to helping me achieve my goals. The scholarship allows me to focus on my studies. I look forward to pursuing my dreams of medical school and being able to become a force for good and helping others in any way that I can."
You may give to the UI Libraries student employee scholarship fund online. More information about other scholarship winners is available in Bindings, The University of Iowa Libraries magazine.