If you are affiliated with The University of Iowa, your student or staff card IS also your library card.
Show any of the following at the Hardin Library in order to check out materials: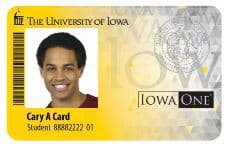 Iowa One Card
UI Healthcare Badge
Dental School photo ID
Drivers license, State-Issued photo ID, Passport
If you are not affiliated with The University of Iowa, you still have options!  If you are a resident of the State of Iowa or an employee at the Iowa City VA Hospital, you may apply for a borrower's permit.  Apply for a permit at the desk.  A state-issued photo ID, drivers license or passport is required.  Not all materials may be checked out with borrower's permits.
Anyone can use Hardin Library's materials within the library when the library is open.