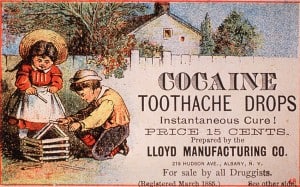 Hardin Library is currently hosting the National Library of Medicine (NLM) exhibit, "Pick Your Poison: Intoxicating Pleasures & Medical Prescriptions." The traveling exhibition, consisting of six large banners, was produced by NLM in cooperation with the National Museum of American History and will be on display on Hardin's third floor through December 23rd.
"Pick Your Poison" explores the social and medicinal history of mind-altering drugs in America and explores the shifts in opinion over the years.  Substances explored include tobacco, alcohol, opium, cocaine, and marijuana.  Stop by Hardin any time the library is open to see the exhibit.
For additional information, including online versions of related medical books, see The National Library of Medicine's online exhibit.
How do I get there?  Take Pentacrest Cambus to the VA Loop Stop.  The library is just up the hill.