Name: Jen Eilers
Hometown: Cedar Rapids, IA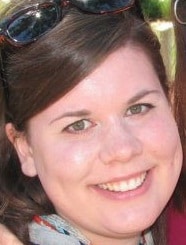 Undergraduate Education: Bethel University, St. Paul, MN, BA English Literature and Writing, '05
Graduate Education: University of Iowa, MA Library and Information Science, '13.
Future Plans: I will begin working at Iowa City Public Library at the reference desk and teaching some basic tech classes this summer.
Why I'm Working at Hardin:  To tie my schoolwork into a practical framework and practice and hone my reference librarian skills.
Favorite Part of Working at Hardin: Being challenged to find and use resources (especially databases) that I had never encountered until coming to Hardin.
Fun Facts:  I am a published poet and make a mean lemon bar. I love to hike the National Parks and miss doing all my mountain hiking now that I'm living in Iowa again.
I'm Currently Reading: Mr. Penumbra's 24-Hour Bookstore by Robin Sloan and Soulless by Gail Carriger