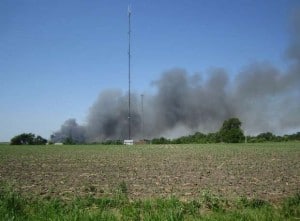 The Iowa City landfill  has been on fire since Saturday evening, and is predicted to burn for several more days.  Burning tires are causing a large smoke plume.
The Johnson County Public Health department warns:
Persons in the path of the smoke plume should avoid exposure to the smoke as much as possible. Persons who have respiratory, heart or other conditions which may be aggravated by smoke and the young and elderly should shelter in place with outside sources of air shut off.
Most home air conditioning units recirculate air from the interior and should be sufficient. Businesses and other structures which draw in outside air should close outside air sources if the smoke plume is present. Avoid outdoor activities such as exercising if the smoke plume is present.
Nursing homes, day cares and other businesses which care for the elderly, very young and persons with respiratory diseases should take special care to monitor the health of clients and to minimize exposure to the smoke plume.
The Johnson County Health Department is coordinating with the University of Iowa State Hygienic Laboratory's Air Quality Department to begin air quality monitoring.
For more current information, please check local news sources.