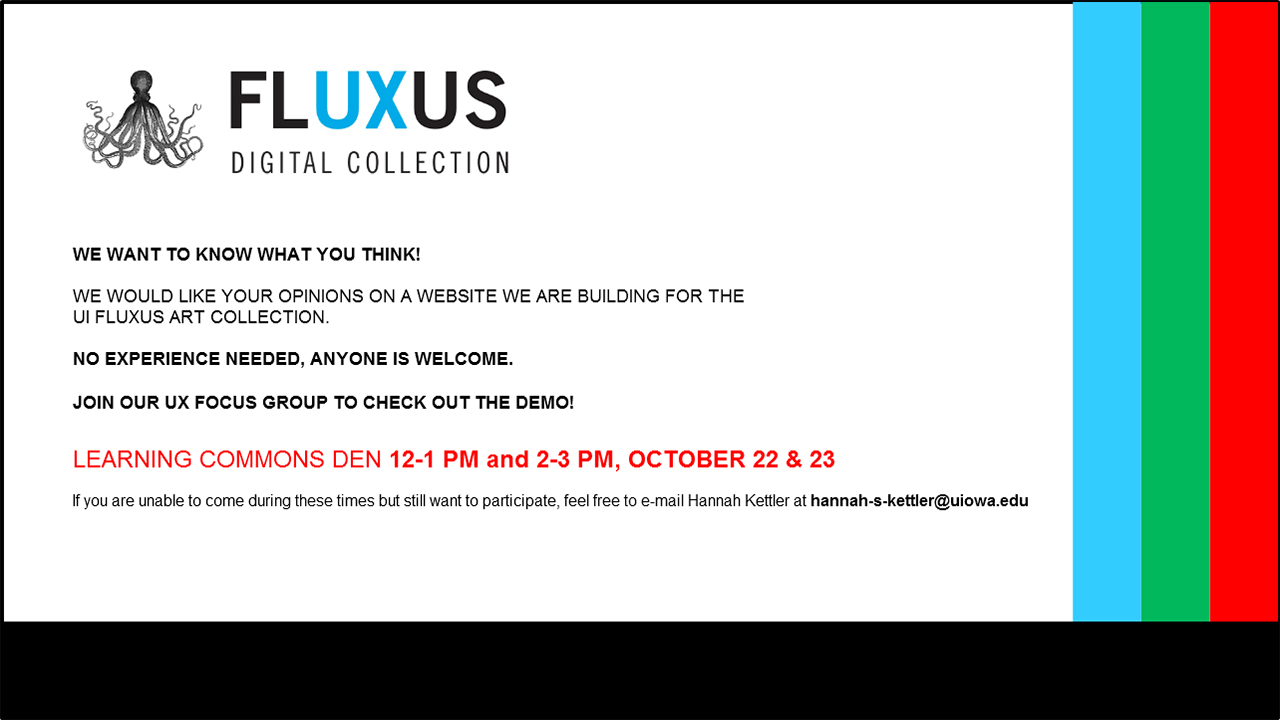 We Need Volunteers to Test and Improve the Fluxus Digital Collection Website
The Digital Studio for Public Arts & Humanities is seeking volunteers to help us improve the design and usability of the Fluxus Digital Collection website.
Feel free to stop by any time during the UX Focus Group, and be critical part of web development. All responses will be anonymous.
What is the Fluxus Digital Collection?
Fluxus refers to an international movement of artists, composers, and writers working together during the 1960s and 70s. The group's members are famous for their creation of ephemeral and genre-blurring "intermedia" artworks, their performance events, and the international networks they forged to facilitate creative collaboration. And the University of Iowa Libraries and the Digital Studio for Public Arts & Humanities are attempting to digitize it and make it publically available online.
What is involved?
You will be shown a basic run through of the Fluxus Digital Collection website design, and asked to answer several questions about the website functionality.  We want to know how you are likely to use the site, as well as if the site enables you use it the way you would want. We anticipate that it will take about 15 minutes.
Do I need any special knowledge?
If you have ever used the internet, then you have all the special knowledge you need to help us. Other helpful skills are internet browsing, or using the internet for research.
Interested? (When? Where?)
We will be in the Main Library Learning Commons Den from 12-3pm October 22nd and 23rd. There will be two sessions each day from 12-1 and another from 2-3.
If you are unable to come to the Main Library and still want to be involved, please e-mail Hannah Kettler at hannah-s-kettler@uiowa.edu. Thank you for your help.