HISTORY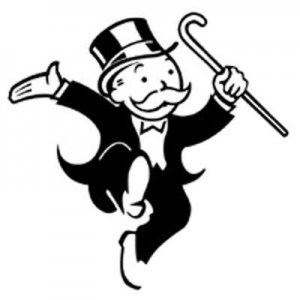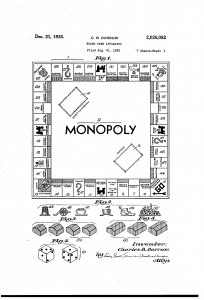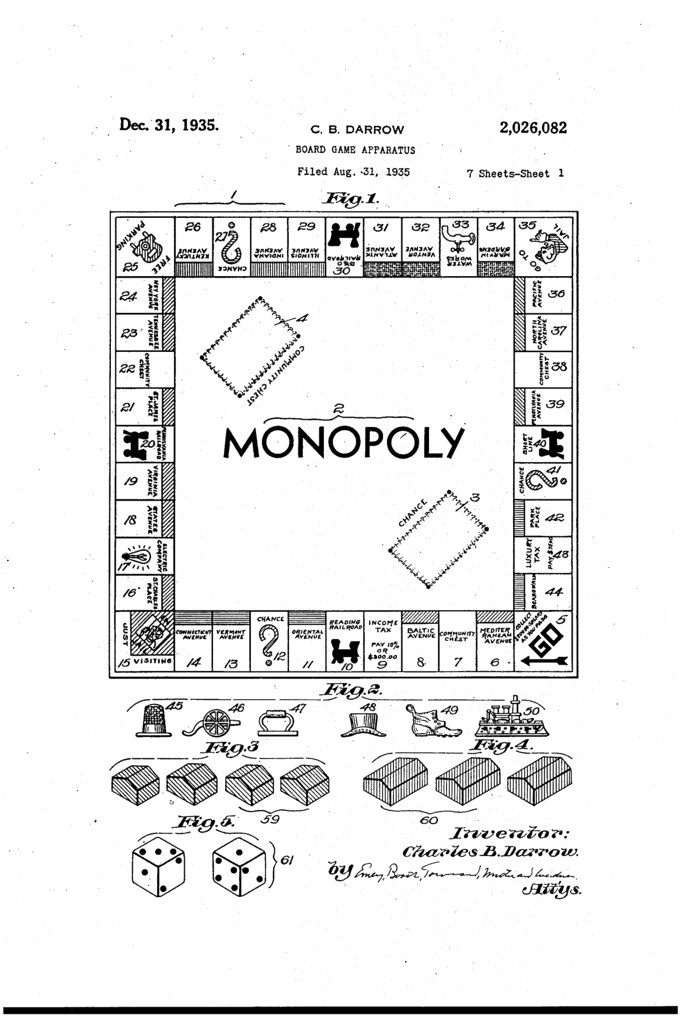 Ironically, it was during the American Depression when Monopoly, a game of wealth and finance, became popular. Charles Darrow devised of a buying and selling real estate game with Atlantic City's street names. He sold each hand-painted oil-cloth game for $4. When it caught on, and he could not keep up with the demand for manufacturing, he wrote Parker Brothers. The company initially rejected the board game citing it as too long and complicated, but eventually, Robert Barton, the president of the company, bought the rights to the game and registered the Monopoly® trademark in 1935. Thus, Darrow became the first inventor of games to become a millionaire.
INFRINGEMENT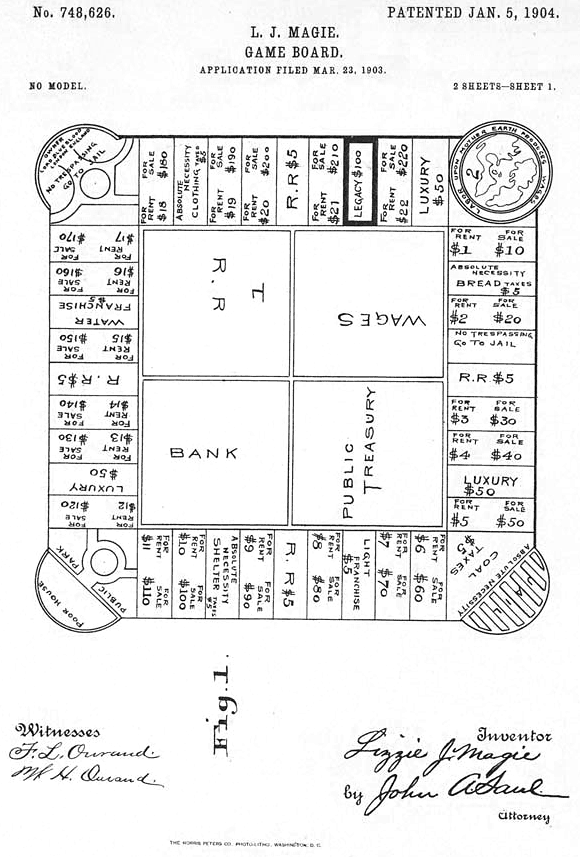 Although Darrow is credited for the game's invention, history shows that Elizabeth "Lizzie" Magie was issued a similar game patent in 1903. The Landlord's Game,"a practical demonstration of the present system of land-grabbing with all its usual outcomes and consequences," was not widely manufactured and published until 1906 when she and two followers of Henry Goerge, an American political economist, established the Economic Game Company of New York. They wanted the game to demonstrate Henry George's philosophy that people own value for what they create not for land which belongs to everyone. In 1910, Lizzie submitted her game to Parker Brothers for its consideration but was declined. Yet, word of the game spread. It is widely believed that Charles Darrow infringed upon Lizzie Magie's patent, and in 1935, Robert Barton held a secret meeting with Darrow reaching a settlement agreement granting Parker Brothers worldwide rights in order to release Darrow from legal costs that he would incur defending the origin of the game.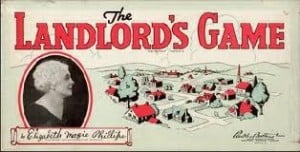 What did Ms Magie get out of the deal? In a January 1936 interview with the Washington D.C. Evening Star, when asked how she felt for receiving only $500 for her patent and no royalties ever, she replied that it was okay "if she never made a dime so long as the Henry George single tax idea was spread to the people of the country."
REFERENCES
1. McCorquodale, Duncan, et al, editors. Inventors and Inventions. London : Black Dog, 2009. p. 75 Engineering Library FOLIO T48 .I58 2009
2. Mag-ie, L.J. Game-board. U.S. Patent 748,626, filed March 23, 1903, issued January 5, 1904.
2. Darrow, Charles B. Board game apparatus. U.S. Patent 2,026,082, filed August 31, 1935, issued December 31, 1935.
3. Monopoly Game History, Landlord's Game History
4. How Henry George's Principles Were Corrupted Into the Game Called Monopoly
5. Henry George Source: http://en.wikipedia.org/wiki/Henry_George
6. George, Henry. Progress and Poverty, New York : Robert Schalkenbach Foundation, c1879, 1955 Main Library HB171 .G27 1955
7. There is nothing new under the sun, Mrs. Elizabeth Magie Phillips, headmistress and proprietor of the Henry George School of Social Science, in Clarendon, Val, is convinced, she said yesterday. The Washington Post [Washington D.C.] 28 Jan 1936: 13 Source: ProQuest News & Newspapers