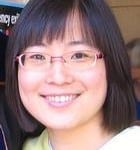 Xiaomei Gu was awarded a Sewell Fund stipend to attend the American Association of Colleges of Pharmacy annual meeting.  This year's meeting is from July 14-18 in Kissimmee, Florida.
The mission of The Grace and Harold Sewell Memorial Fund is to increase librarians' identification with medical, pharmaceutical, and health care professionals. Librarians experienced in managing knowledge and teaching informatics can supply quality information by becoming ongoing members of the health care team. Immersion in the health care environment is necessary for librarians to understand how health care professionals solve problems individually and through consensus.
Jennifer Deberg was accepted to the Iowa Library Association Leadership Institute for 2012.  Participants in the institute will learn leadership skills in a retreat-like setting.  After her acceptance, Deberg was awarded a scholarship for registration costs from the Iowa Library Association Health Sciences Subdivision.