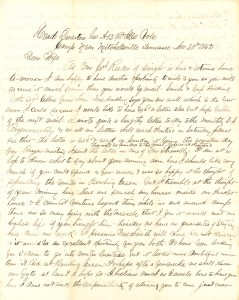 Head Quarters, Co. A, 129th Ills. Vols.
Camp Near Mitchellville, Tennessee, Nov. 30th 1862
Dear Wife
As Mr. Jos. Reeder of Dwight is here & returns home to-morrow, I am happy to have another opportunity to write to you, as you will receive it much sooner than you would by mail.1 Smith & Capt. Hoskins both recd. letters from home. Mrs. Hoskins says you are well which is the best news I could receive. I would like to have recd. a letter also but hope better of the next mail.
I wrote quite a lengthy letter to-day to the monthly S. S. Prayer-meeting, & as all our letters will reach Pontiac on Saturday, please see that the letter is recd. & read on Sunday, it being the regular day for Prayer-meeting. I sent the letter in care of Mr. Strawell; they will be handed to the mail carrier at Pontiac.2
I am at a loss to know what to say about your coming down here.3 I should like very much if you could spend a few weeks & was so happy at the thought of spending the Winter in Bowling Green, but I tremble at the thought of your coming here. There are scarcely any houses inside our Picket lines, & I cannot venture beyond them while in and around camp. There are so many lying with the measles that I fear it would cost our babe's life if you brought him,4 besides we have no guarantee of staying here even one week. I presume Mrs. Smith will come. I do not know; & it would be an excellent opportunity for you both.
We have been looking for orders to go into Winter Quarters, but it looks more doubtful now than it did at Bowling Green. Perhaps after a few weeks we shall know our fate, at least I hope so.5 I believe much as I would love to have you here, I dare not risk the responsibility of advising you to come just now. I sometimes think it was all wrong for me to ask you to come, but I had thought the matter over & felt sure I could keep you both safe & comfortable in or near Bowling Green. But I hope our hearts are prepared for the uncertainties of War. May God make you happy & keep you both in the enjoyment of good health. Perhaps before long things may change for the better.
Col. Smith & his wife arrived here yesterday evening; he is better but quite weak yet.6 I understand they intend to return to Bowling Green, as they can find no place to stop here & his health will not permit his staying in camp.
My health is quite good. It has been raining hard this afternoon & is very damp & getting quite cold to-night. We may expect winter in earnest soon. The fall has been very favorable.
I presume ere this you have gone home, as Mrs. Hoskins writes that you would do so last week. I hope you are comfortable. Enclose find five dollars I succeeded in borrowing yesterday. I wish it was much more but can do but little until pay day. By selling the cow, you will have a little at least; sell all if necessary.
Our mails come very irregularly since we are here, most of it goes to Nashville first. We sent to Bowling Green last night for the mail we recd. this Evening. We are getting along very well, I presume full as well as any Regt. in the field & have suffered less from disease. Bro. Cotton preached to us to-day & would have done so to-night, but it rained too hard.
Give my love to all. I wrote to you, Mother & Maggie a few days ago. Kiss baby for me. Write as often as convenient. You speak of Hoskins not writing, he has written at least one letter a week ever since we left home. He wrote immediately when I told him what you said. He recd. a letter tonight & was much pleased.7 May the blessings of Heaven rest upon you all, try & be cheerful & happy. God rules all things well.
Your affect. Husband
J. F. Culver
Joseph Reeder was a 39-year-old Dwight Township farmer. In 1860 he valued his real estate at $4,000 and was living with his three sons, Levi 13, George 8, and James 5. Eighth Census, Livingston County, State of Illinois, NA.
Jason W. Strawell was a 31-year-old Pontiac hardware merchant. Strawell in 1860 was living with his wife Elizabeth. Ibid.
On Nov. 16, 1862, Mary Culver had written, "Oh, Frank do you think I can come to you: I'm afraid almost to think of it lest I be disappointed. I am so well and the baby too that if you stay there [at Bowling Green] this winter, I must come pay or no pay. I will sell the cow and every thing else I have to pay my expenses there and if I can have tea to make dinner for my baby, I can live on almost nothing, at least I can live on anything you do, and I know my husband will share with me. How soon will we know whether you go
into winter quarters or not. I shall dread to open your letters." Mary Culver to J.F.C., Nov. 16, 1862, Culver Collection.
Like many regiments recruited from a rural environment, the 129th Illinois experienced a measles epidemic. These epidemics were virulent and claimed many lives.
Two days before, on Nov. 28, there had been a confrontation between Colonels Hambright and Case. It was precipitated when Hambright called on Case to send two companies of the 129th to Nashville as train guards. Case refused as this was contradictory to his orders from General Granger. Hambright said that if this were true, he would not call on the 129th for details in the future, as Case had refused to obey orders.
When he notified General Granger of his difficulties with Colonel Hambright, Case pointed out that although his regiment was encamped within the picket line manned by Hambright's command, he, for his own protection, would send out the same number of pickets as heretofore. In view of Hambright's intransigence, the 129th's only duties for the time being were to provide for the security of their camp and to drill in the afternoons. Case to Granger, Nov. 30, 1862, Letter Books, 129th Illinois Regiment, NA.
Colonel Smith, having secured a surgeon's certificate attesting to his illness, had left the regiment in the fourth week of October at Lebanon. Proceedings of a Board of Examiners, Held at Gallatin, Tenn., by Order of SO 63, March 7, 1863, Regimental Papers, 129th Illinois, NA, RG 94.
Mrs. Hoskins had complained to Mary Culver that she had only received two letters from her husband since he had left Pontiac on Sept. 23, 1862. J.F.C. was to tell Captain Hoskins that "he ought to be ashamed of himself." Mary Culver to J.F.C, November 16, 1862, Culver Collection.